3x Bonus Crypto.com Exclusive Campaign for Elrond Short Term Deposits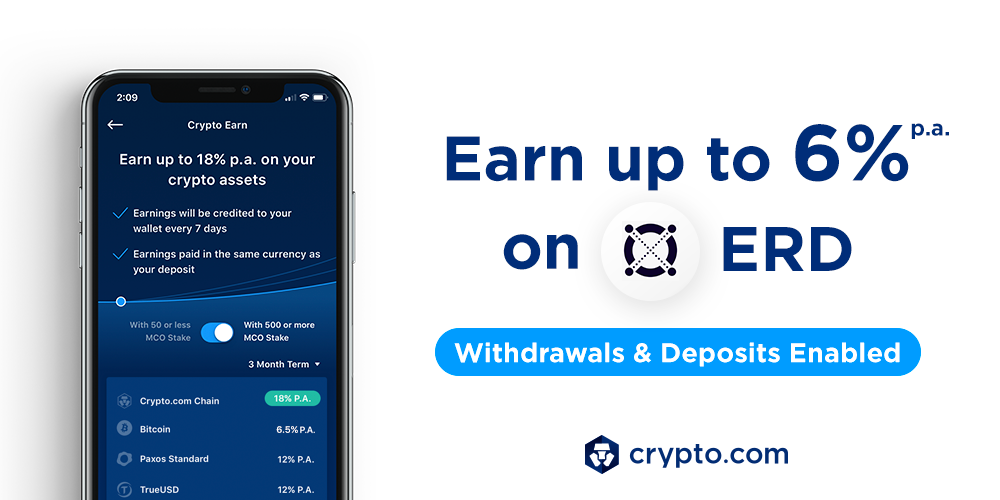 We're happy to announce that $ERD holders are getting a chance to earn triple bonuses on Crypto.com short term deposits!
The Elrond ERC20 token is now listed on Crypto.com's Earn savings platform. $ERD holders can make short term deposits with attractive interest rates, which can go up to 6% p.a. for the duration of the campaign.
The total prize pool for this event is $30,000 USD in ERD Tokens and can be subscribed to for a limited period of 10 days.
Learn more about the campaign and join here:
About Elrond
Elrond is a new blockchain architecture, designed from scratch to bring a 1000-fold cumulative improvement in throughput and execution speed. To achieve this, Elrond introduces two key innovations: a novel Adaptive State Sharding mechanism, and a Secure Proof of Stake (PoS) algorithm, enabling linear scalability with a fast, efficient, and secure consensus mechanism. Thus, Elrond can process upwards of 10,000 transactions per second (TPS), with 5-second latency, and negligible cost, attempting to become the backbone of a permissionless, borderless, globally accessible internet economy.
About Crypto.com
Crypto.com was founded in 2016 on a simple belief: it's a basic human right for everyone to control their money, data and identity. With over 3 million users on its platform today, Crypto.com provides a powerful alternative to traditional financial services, turning its vision of "cryptocurrency in every wallet" into reality, one customer at a time. Crypto.com is built on a solid foundation of security, privacy and compliance and is the first cryptocurrency company in the world to have CCSS Level 3, ISO27001:2013 and PCI:DSS 3.2.1, Level 1 compliance. Crypto.com is headquartered in Hong Kong with a 200+ strong team.
For more information, please visit www.crypto.com
---
For more information, please visit us:
---
Latest news on Elrond
Check out our latest blog posts and updates