Groundbreaking AI-Generated Media Content Comes To Elrond Via HUMANS, Powered By Elrond Research Strategic Investment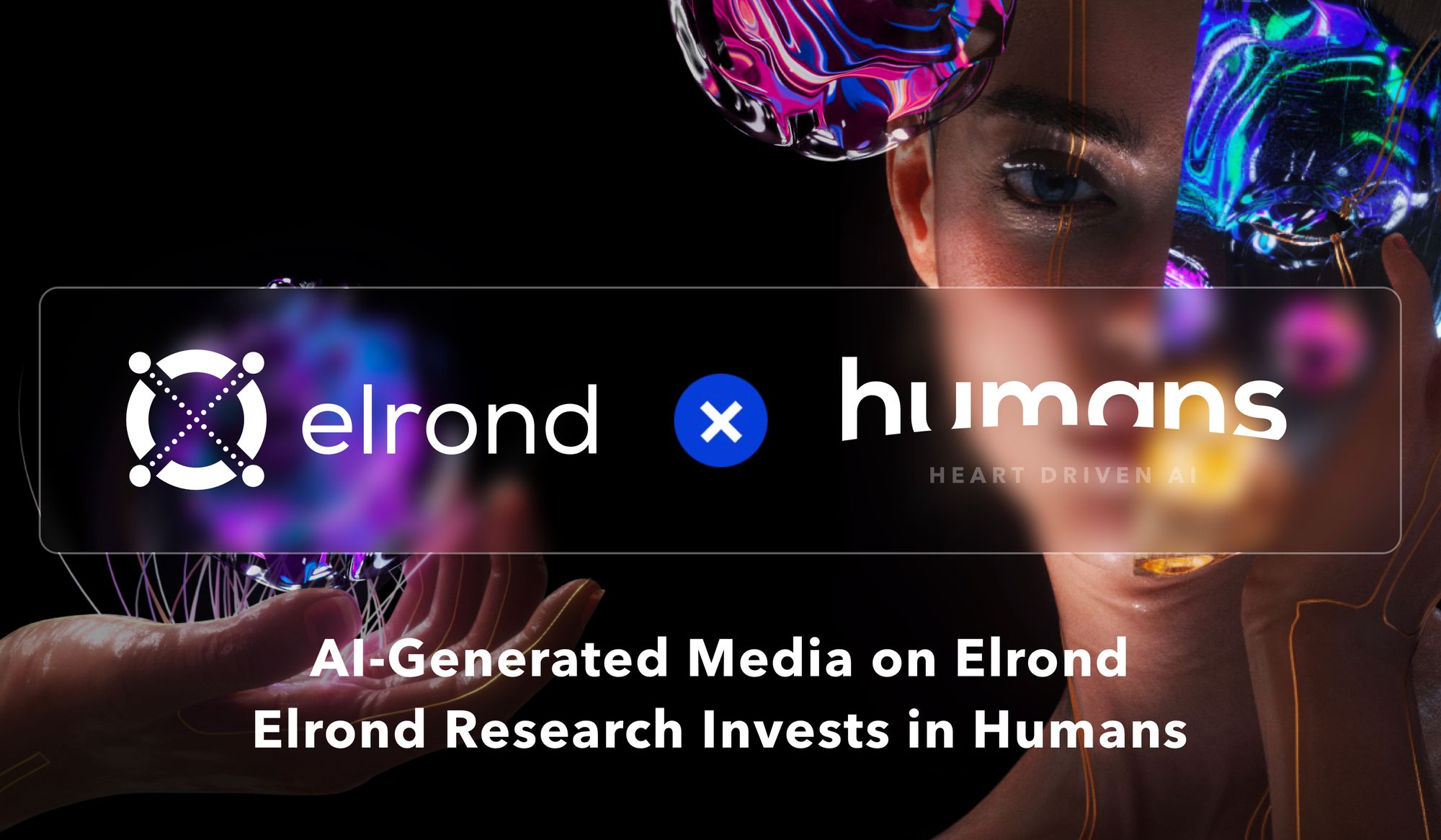 We are thrilled to announce that Humans is building on Elrond! The development of the groundbreaking protocol that facilitates the generation of media content through Artificial Intelligence is supported by a strategic investment from Elrond Research.
Humans enables content creators to generate media content with the support of AI. By scanning human faces and recording voices, Humans allows the creation of rich media content based on a script, without the high production costs typically associated with these activities.
Through Humans, production studios, ad agencies, and any content creator can access licensed Digital Genomes, create rich media and automate personalized output in one place. Innovators can publish and monetize their A.I. technologies in a ready-to-sell environment that handles data management, integration, and the sales process.
The possibilities of such groundbreaking technologies are truly limitless and will soon allow the creation of videos, games, vlogs, news programs, and other types of media content via powerful AI and machine learning algorithms, in a very efficient way that will be available to anyone.
The protocol leverages blockchain technology to provide Proof of Human verification based on $HEARTS tokens and biometrics. This is essential for real people to play a crucial role as validators in a framework designed to keep AI honest. AI entities generated by the protocol will be made unique in the form of NFTs which can be managed as companies.
The $HEARTS tokens and Humans NFTs will be ESDT tokens on the Elrond Network, which will be the blockchain technology powering Humans. Their significant achievements in combining groundbreaking technologies will help advance the potential of computer technology to augment human capabilities.
Beniamin Mincu, CEO of Elrond said: "At the intersection of artificial intelligence and blockchain technology, there is an enormous universe of opportunities. We are excited to support the Humans initiative to create technologies and products that will expand the ability of people to express themselves, cooperate and transact in a creative manner."
Sabin Dima, Humans CEO and Founder said: "Anyone can license and monetize their digital likeness, voice, gestures, dance moves or any other skill, and content creators can use any combination to create synthetic actors and highly personalized media assets. We have selected the Elrond Network as our blockchain partner because their technology enables every human to interact with blockchain technology at an internet-scale, which is precisely the scope of our endeavours."
About Elrond
Elrond is a new blockchain architecture, designed from scratch to bring a 1000-fold cumulative improvement in throughput and execution speed. To achieve this, Elrond introduces two key innovations: a novel Adaptive State Sharding mechanism, and a Secure Proof of Stake (PoS) algorithm, enabling linear scalability with a fast, efficient, and secure consensus mechanism. Thus, Elrond can process upwards of 10,000 transactions per second (TPS), with 5-second latency, and negligible cost, attempting to become the backbone of a permissionless, borderless, globally accessible internet economy.
About Humans
Humans is a platform that integrates data and technology to generate unique AI models and use them as an API (application programming interface) by the business community. Thus, technology allows application developers to use AI models by paying rights fairly to both those who provide technology and data.
---
For more information, please visit us:
---
---
Latest news on Elrond
Check out our latest blog posts and updates