DeFi & CeFi Products on Elrond Will Get Access To Off-Chain & Cross-Chain Data via DIA Oracles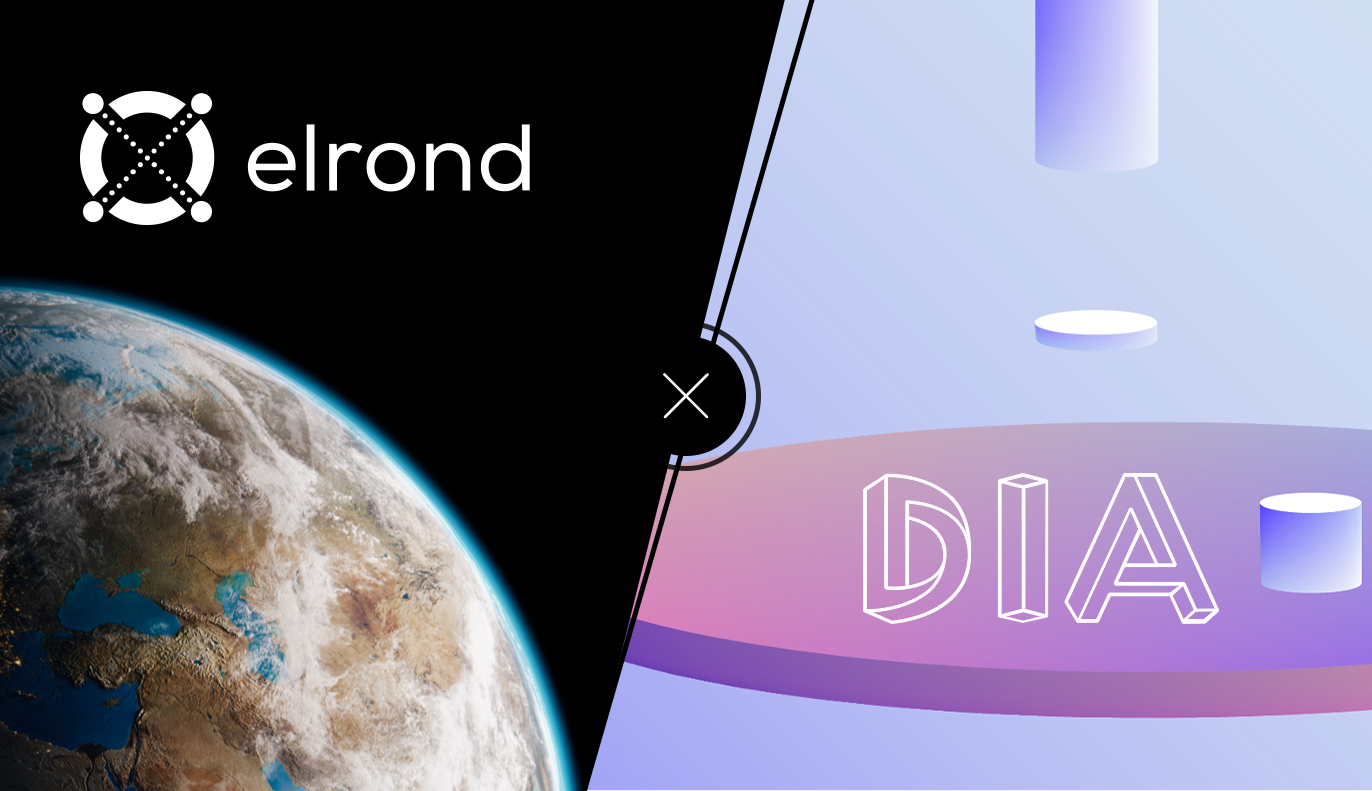 We're excited to announce that Elrond DeFi products and smart contracts will be able to access off-chain & cross-chain information via DIA oracles. Elrond blockchain data will also be made available to DIA users.
The existing data sets on DIA will be immediately available to Elrond smart contracts after the integration. Information about Elrond smart contracts status, tokens & transactions will also be available via DIA, for integration in non-native Elrond DeFi, prediction markets and other use cases. This new data can be made available on request using a bounty-based system.
"DeFi and CeFi solutions depend on trustworthy data to reliably automate their processes and increase efficiency. We're excited to complement the Elrond high throughput and inexpensive mainnet with the rich data sets provided by the DIA crowd-sourced oracle platforms" said Beniamin Mincu, Elrond CEO.
DIA stands for Decentralized Information Asset and is an open-source platform that enables market actors to source, supply, and share trustworthy data. It can aggregate information from both centralized and decentralized systems, enabling the transparent sourcing of and access to data sets such as digital asset prices, lending rates, lending states, FX rates, and much more. Any data can be requested using bounties.
"We are really happy to see the interest in transparent and crowd-verified data growing." says Michael Weber, President of the DIA Association. "The team at Elrond has really understood the value not only of using these transparent feeds, but also making their own data available transparently to the wider ecosystem. We are excited to work with innovative projects like these."  
The integration is important for the Elrond ecosystem because it enables new DeFi use-cases, either built on the Elrond mainnet or using Elrond assets on other platforms. This will accelerate DeFi growth on Elrond and increase demand for eGLD as an underlying asset.
About Elrond
Elrond is a new blockchain architecture, designed from scratch to bring a 1000-fold cumulative improvement in throughput and execution speed. To achieve this, Elrond introduces two key innovations: a novel Adaptive State Sharding mechanism, and a Secure Proof of Stake (PoS) algorithm, enabling linear scalability with a fast, efficient, and secure consensus mechanism. Thus, Elrond can process upwards of 10,000 transactions per second (TPS), with 5-second latency, and negligible cost, attempting to become the backbone of a permissionless, borderless, globally accessible internet economy.
About DIA
DIA (Decentralised Information Asset) is an open-source, financial information platform that utilises crypto-economic incentives to source and validate data. Market actors can supply, share and use financial and digital asset data. Based in Switzerland, DIA operates as a non-profit association.
---
For more information, please visit us:
---
---
Latest news on Elrond
Check out our latest blog posts and updates