EGLD listing on Bithumb Global! Join the 2,000 EGLD campaign and win prizes for deposits, trading & signups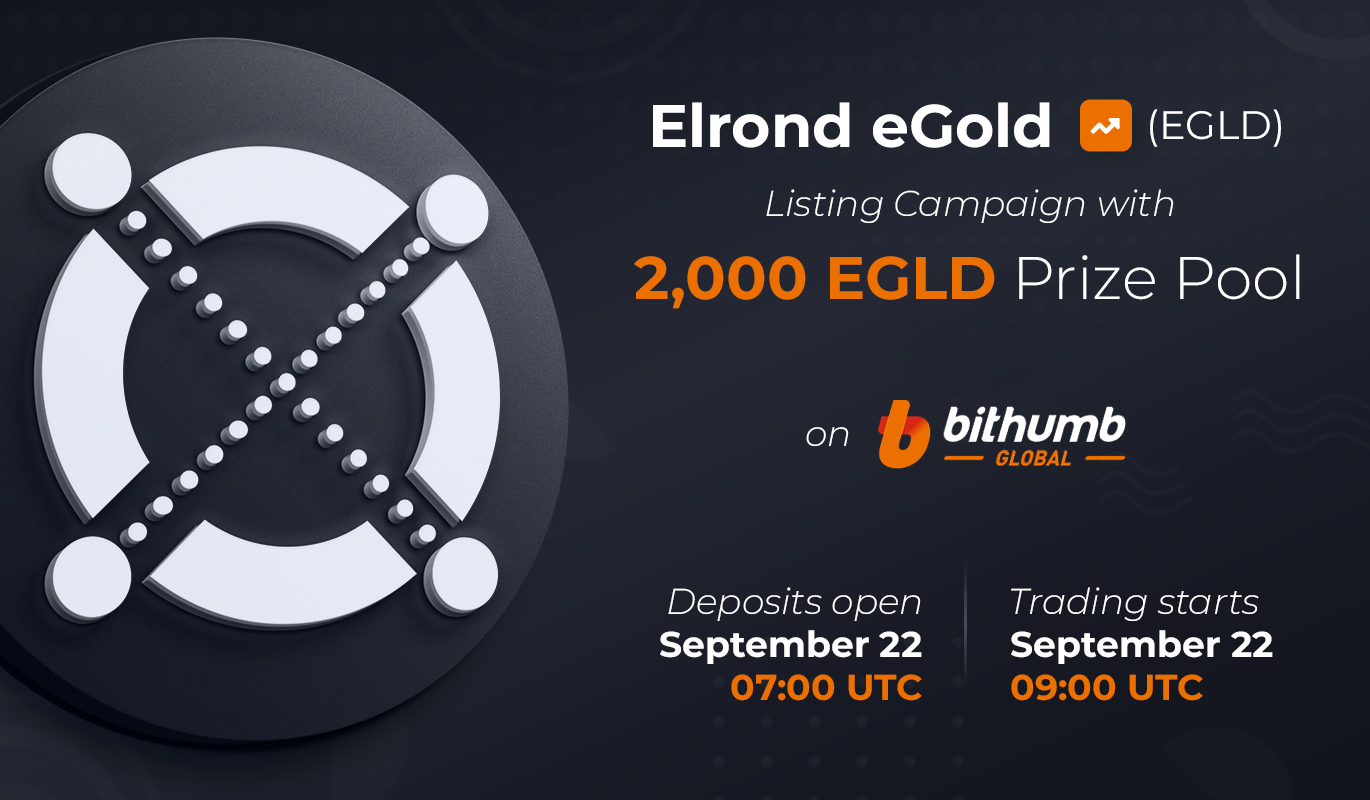 We're excited to announce that EGLD will be listed on Bithumb Global! Deposits & trading start on the 22nd of September, together with a promotional listing campaign.
Earn from the 2,000 EGLD prize pool for deposits, trading and sign-ups!
Deposits: September 22 07:00 UTC
Trading: September 22 09:00 UTC
Event 1: 800 EGLD for EGLD Deposits
Sep 22 07:00 UTC to Sep 28 16:00 UTC
Each deposit of 40 EGLD or more will be rewarded with 0.4 EGLD, up to 2 EGLD per account (5 deposits), first come, first served.
Event 2: 1,000 EGLD for trading
Sep 22 09:00 UTC to Sep 28 16:00 UTC
Trade more than 500 EGLD and get rewarded as follows:
TOP 1:300 EGLD
TOP 2:200 EGLD
TOP 3:100 EGLD
TOP 4~5:equally divide up 100 EGLD
TOP 6~10:equally divide up 100 EGLD
TOP 11~20:equally divide up 100 EGLD
TOP 21~50:equally divide up 50 EGLD
TOP 51~100:equally divide up 50 EGLD
Event 3: 200 EGLD for non-EGLD Deposits
Sep 22 07:00 UTC to Sep 28 16:00 UTC
New users who deposit USDT, BTC or ETH of at least $200 USD equivalent receive 0.2 EGLD on a first come, first serve basis.
Read the official Bithumb Global competition information: https://support.bithumb.pro/hc/en-us/articles/360053832334
The web interface at https://bithumb.pro is available in 8 different languages, allows the purchasing of cryptocurrency directly with 35 different currencies, which are served by 30 different payment processors.
Bithumb Global is the international arm of Korea's largest cryptocurrency exchange. It is powered by the same robust exchange engine, intuitive interface, and outstanding user experience.
This new exchange listing is important for the Elrond ecosystem because it adds a large amount of fiat onramp options, such as via the African M-Pesa, and direct exposure to multiple localized communities at the same time.
About Elrond
Elrond is a new blockchain architecture, designed from scratch to bring a 1000-fold cumulative improvement in throughput and execution speed. To achieve this, Elrond introduces two key innovations: a novel Adaptive State Sharding mechanism, and a Secure Proof of Stake (PoS) algorithm, enabling linear scalability with a fast, efficient, and secure consensus mechanism. Thus, Elrond can process upwards of 10,000 transactions per second (TPS), with 5-second latency, and negligible cost, attempting to become the backbone of a permissionless, borderless, globally accessible internet economy.
About Bithumb Global
Bithumb Global is the global arm of Bithumb Korea, which is one of the top exchanges in the world, with a collective transaction volume exceeding 1 trillion US dollars. Bithumb Global is designed to facilitate every global user to trade, participate, or contribute to the digital assets ecosystem with ease.
Bithumb Global aims to become a user-friendly digital asset ecosystem with tighter security measures of international standards and increased liquidity. For more information on Bithumb Global, please visit www.bithumb.pro.
---
For more information, please visit us:
---
---
Latest news on Elrond
Check out our latest blog posts and updates