eGold di Elrond per aggiungere un Cold Storage tramite il wallet degli smartphone Samsung
Also available in
English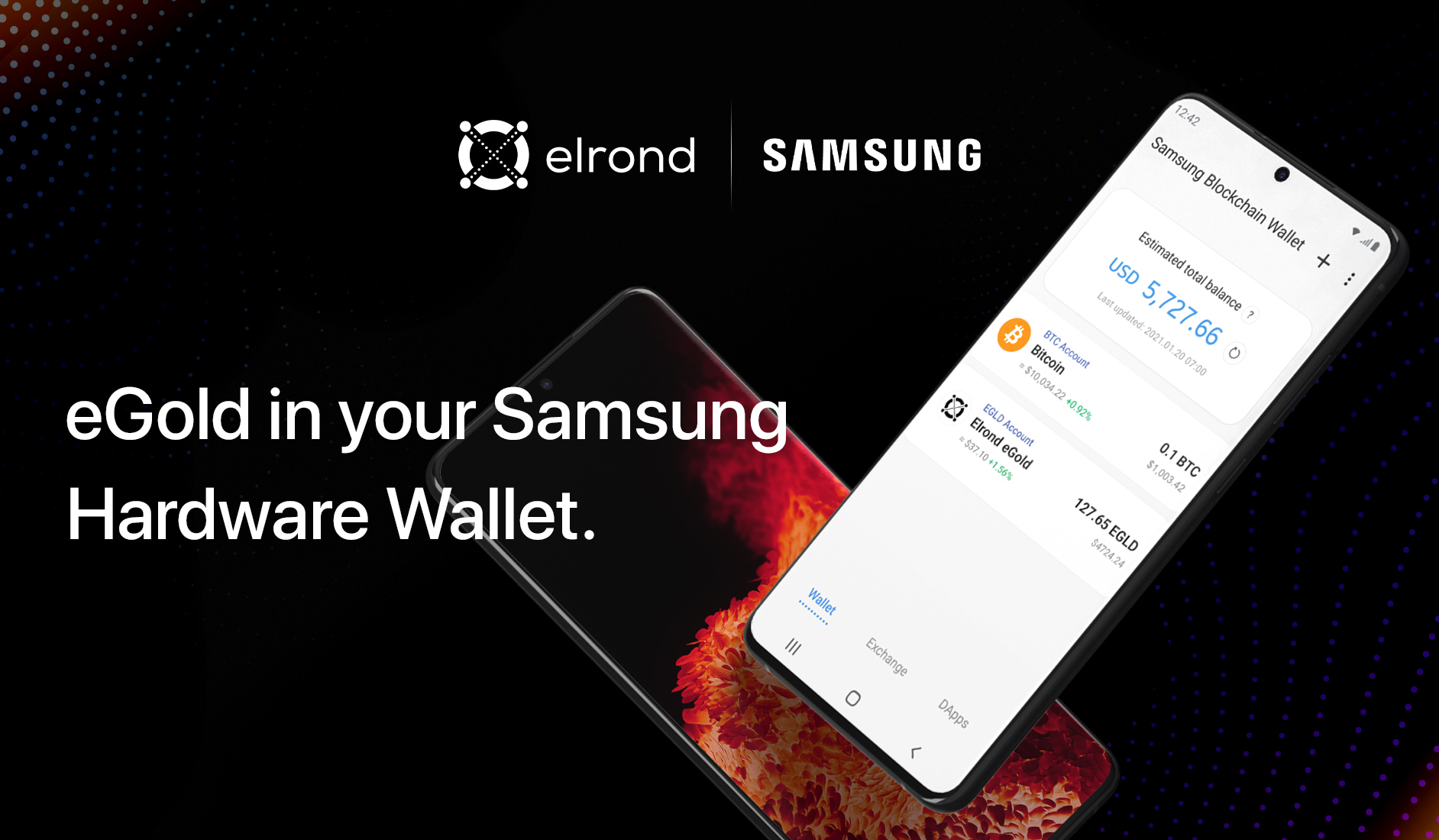 La sicurezza della blockchain consente di ottenere la vera proprietà degli asset, grazie alla crittografia avanzata che garantisce l'accesso e il trasferimento dei fondi e che possa essere eseguito solo dal proprietario delle chiavi private. Tenerli al sicuro è quindi fondamentale per l'archiviazione e la gestione delle criptovalute.
Le opzioni più popolari e sicure sono gli hardware wallet - denominati anche "cold storage" - dispositivi appositamente costruiti che memorizzano le chiavi private utilizzando speciali chip crittografate. Offrono il massimo livello di protezione contro il furto e l'uso indesiderato, ma a scapito della comodità, in quanto sono un dispositivo in più da portare in giro e per il quale occorre ricordare una password.
Siamo quindi lieti di annunciare che sarai in grado di conservare in modo sicuro i tuoi eGold nell'hardware wallet integrato sul tuo dispositivo Samsung! Gli smartphone dotati di Samsung Blockchain Keystore detengono chiavi private su blockchain e gestiscono le transazioni in un'enclave di sicurezza dedicata al telefono.
Il Trusted Execution Environment del telefono offre la massima sicurezza e può essere sbloccato solo utilizzando gli stessi meccanismi utilizzati per proteggere il tuo dispositivo, come la biometrica o il tuo PIN privato. La potente combinazione tra uno smartphone e un hardware wallet offre il massimo livello di protezione contro furti e accessi non autorizzati in modo estremamente conveniente.
I token eGold in formato ERC20 possono essere archiviati immediatamente nel tuo Samsung Blockchain Wallet, mentre l'integrazione con la nostra blockchain nativa è in fase di elaborazione e sarà disponibile nel prossimo futuro.
Disclaimer
This is a translation from our Italian community. Can it be improved?
Share your thoughts in the
Italian Telegram group
.
---
For more information, please visit us:
---
---
Latest news on Elrond
Check out our latest blog posts and updates