eGold Is Live On Changelly - More Than 2 Million Users Can Purchase eGold With 48 Fiat Currencies & Swap From 160+ Cryptos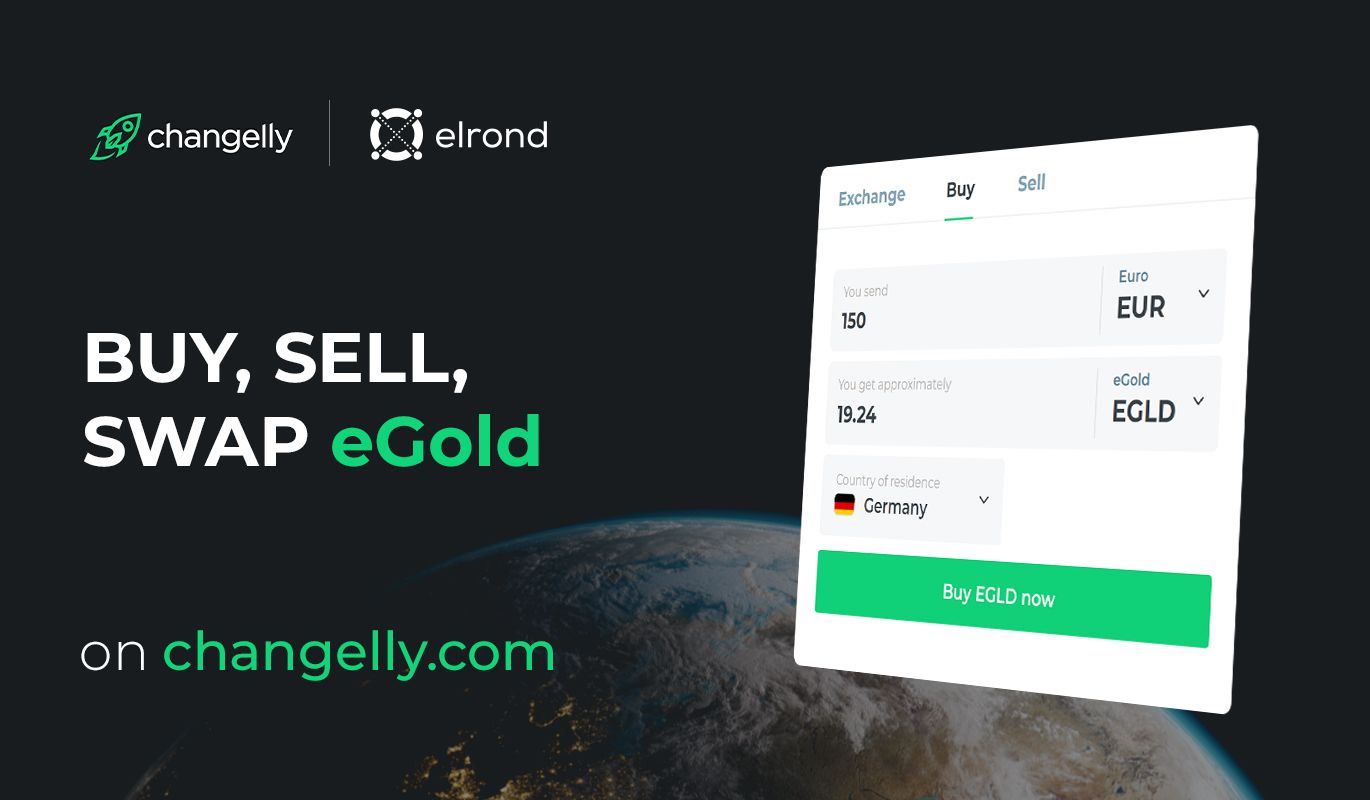 eGold is now available for purchasing and swaps on Changelly! The popular platform enables users to swap between cryptocurrencies, or purchase them with fiat currencies, all in a non-custodial manner.
Changelly has started operations in 2015 and has since brought more than 160 cryptocurrencies to its platform, with fiat purchases in 48 currencies through 7 payment processors and several payment methods such as cards, bank transfers, and Apple Pay.
"eGold's unique ecosystem is ready for more adoption. Thanks to our collaboration with Changelly, we will be able to facilitate easier access to eGold and increased outreach, while enabling additional flexibility to all existing community members." said Beniamin Mincu, Elrond CEO.
Elrond's listing on Changelly comes at an excellent time because of the high influx of new users that are looking for investment opportunities in projects with great fundamentals, which will further boost eGold adoption.
Get eGold on Changelly: https://changelly.com/
About Elrond
Elrond is a new blockchain architecture, designed from scratch to bring a 1000-fold cumulative improvement in throughput and execution speed. To achieve this, Elrond introduces two key innovations: a novel Adaptive State Sharding mechanism, and a Secure Proof of Stake (PoS) algorithm, enabling linear scalability with a fast, efficient, and secure consensus mechanism. Thus, Elrond can process upwards of 15,000 transactions per second (TPS), with 6-second latency, and negligible cost, attempting to become the backbone of a permissionless, borderless, globally accessible internet economy.
About Changelly
Changelly is a non-custodial instant cryptocurrency exchange, that acts as an intermediary between crypto exchanges and users, offering access to 160+ cryptocurrencies. The company's mission is to make the exchange process effortless for everyone who wants to invest in cryptocurrency. Operating since 2015, Changelly attracts over a million monthly visitors who enjoy the high limits, fast transactions, and 24/7 live support. Changelly has an intuitive interface, the best exchange rates, and secure transactions.
---
For more information, please visit us:
---
Latest news on Elrond
Check out our latest blog posts and updates