Enhanced DeFi Interoperability: eGold Swaps Enabled On The Binance Bridge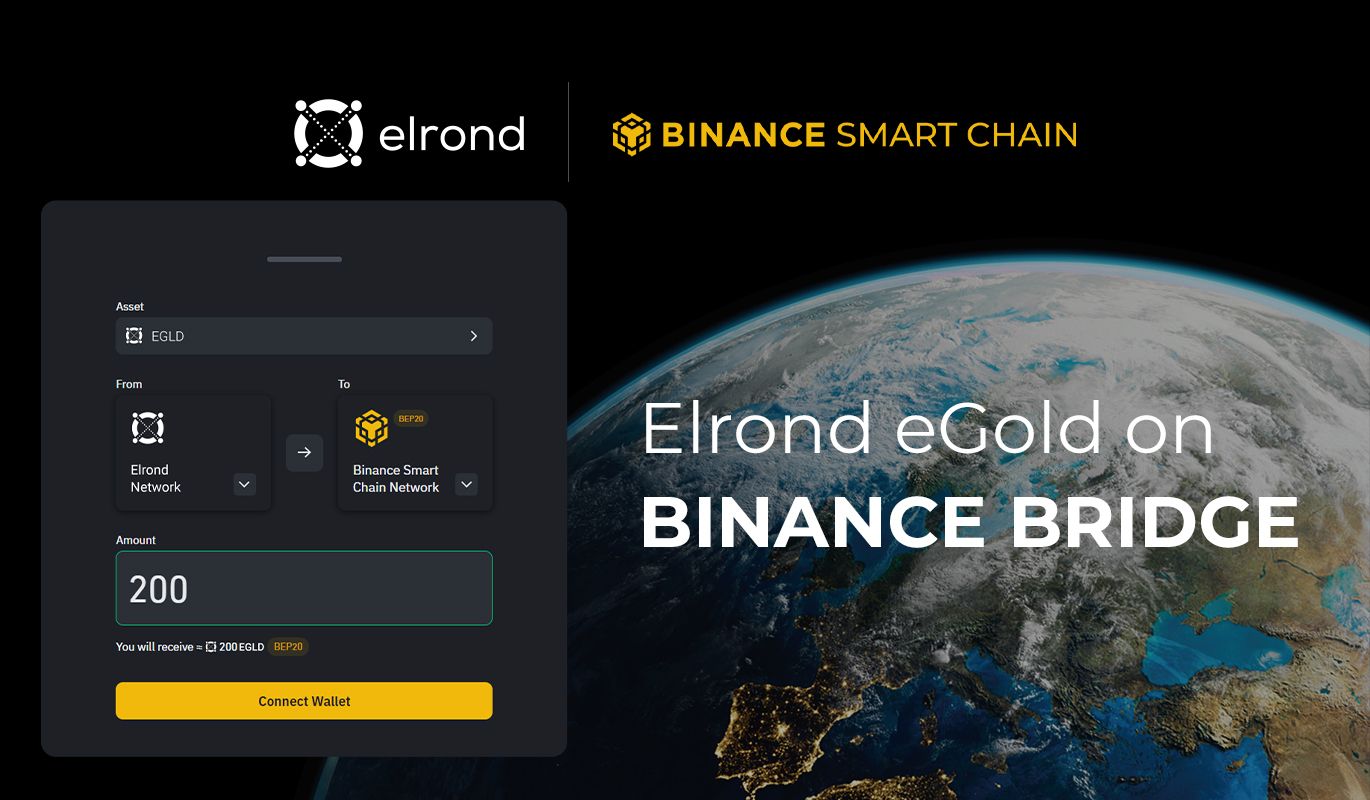 The interoperability between the Elrond Network and the Binance Smart Chain makes a significant step forward. eGold tokens can now be swapped between native EGLD <> BEP20 EGLD versions, using the Binance Bridge.
The integration builds on the already existing swap method through the Binance Exchange and adds a convenient avenue for people looking to convert tokens in a more direct manner.
Users looking to swap can go to https://www.binance.org/en/bridge and select the source and destination network, then follow the instructions to send the tokens that need to be converted to a unique address, and receive the converted tokens in the wallet of their choice on the destination chain.
The Binance Bridge automatically connects to the Binance Chain Wallet, where you can store your BEP20 EGLD tokens.
Relevant links:
BEP20 EGLD can be used in DeFi products on the Binance Smart Chain, such as the 🥞 EGLD-BNB Liquidity Pool on PancakeSwap.
This integration is important for the Elrond ecosystem as it enables eGold holders to engage more easily with DeFi opportunities on the Binance Smart Chain.
About Elrond
Elrond is the internet-scale blockchain, designed from scratch to bring a 1000-fold cumulative improvement in throughput and execution speed. To achieve this, Elrond introduces two key innovations: a novel Adaptive State Sharding mechanism, and a Secure Proof of Stake (PoS) algorithm, enabling linear scalability with a fast, efficient, and secure consensus mechanism. Thus, Elrond can process upwards of 15,000 transactions per second (TPS), with 6-second latency, and negligible cost, attempting to become the backbone of a permissionless, borderless, globally accessible internet economy.
About Binance Smart Chain
Binance Smart Chain is a sovereign smart contract blockchain delivering Ethereum Virtual Machine (EVM) compatible programmability. Designed to run in parallel with Binance Chain, Binance Smart Chain retains the former's fast execution times and low transaction fees while adding Smart Contracts functionality to support compatible DApps.
https://www.binance.org/en/smartChain
---
For more information, please visit us:
---
---
Latest news on Elrond
Check out our latest blog posts and updates