Elrond Assets Soon Usable in Classical Financing and Cross-Chain DeFi via ProDefi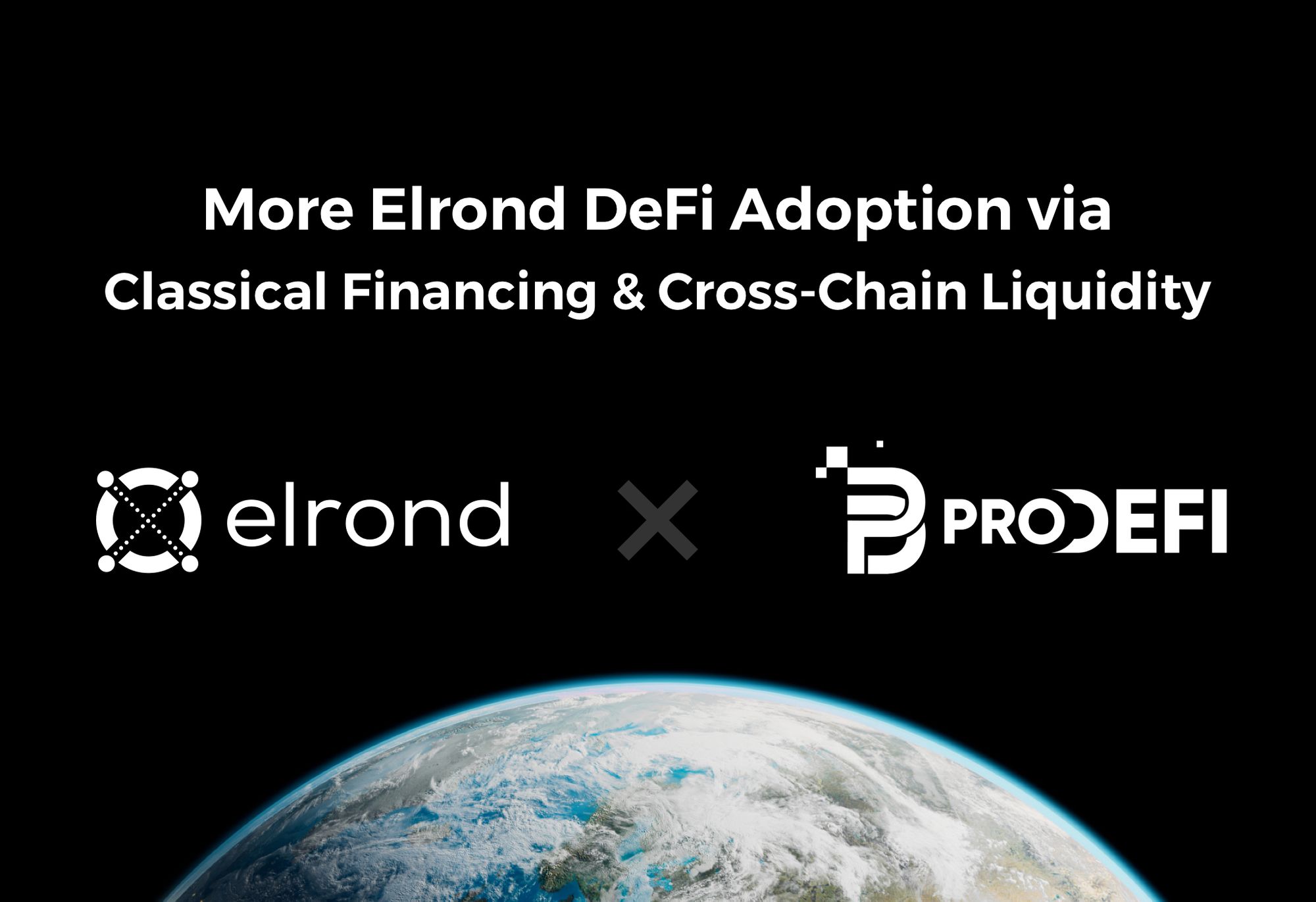 More Elrond adoption is coming thanks to the latest collaboration with ProDefi, a hybrid financing solutions provider that looks to bridge the gap between traditional finance and DeFi. The Singapore startup wants to combine the best aspects of CeFi and DeFi, with the goal of opening up classical finance to blockchain benefits, while also enabling broader access to DeFi products.
"The immense opportunity offered by decentralized finance will enable the new economy to accelerate transformation in those parts of the world that need it most. Just like Africa skipped landlines and went straight to mobile, emerging economies can skip bureaucracy and go straight to FinTech. We believe ProDefi is the right kind of bridge between old & new finance and we're happy to support them moving forward." said Beniamin Mincu, Elrond CEO.
The cross-chain component of ProDefi acts as a settlement layer for DeFi products spanning multiple different chains. A user will be able to put up ETH as collateral and access a $BUSD loan on the Elrond Network, to take advantage of the swift products enabled by our blockchain.
ProDefi also has a semi-centralized approach, where lending risk is offset via classical mechanisms such as KYC procedures, credit risk bureaus, and traditional judicial processes. This opens up traditional P2P lending markets to the benefits of blockchain technology while enabling lenders to benefit more from the same amount of capital, thanks to products using under-collateralization or even no collateral at all.
"By working with the leaders of blockchain sharding technology, our DeFi solutions will be improved with enhanced scalability and higher throughput. This would allow us to better serve our users, especially those in emerging economies, and provide us with a well-needed edge when compared to the traditional financial system. To provide all the power and transparency of decentralized financial solutions, while still being able to maintain the speed and transactional volume of centralized architectures, there is no better choice than having Elrond as our partner." said James Hong, ProDeFi Co-Founder.
The mix of DeFi and CeFi exposure for Elrond assets will drive adoption to native solutions on our blockchain, thanks to the protocol-agnostic liquidity pools and access to brick & mortar-like solutions that will address a much larger userbase than the current DeFi niche.
About Elrond
Elrond is a new blockchain architecture, designed from scratch to bring a 1000-fold cumulative improvement in throughput and execution speed. To achieve this, Elrond introduces two key innovations: a novel Adaptive State Sharding mechanism, and a Secure Proof of Stake (PoS) algorithm, enabling linear scalability with a fast, efficient, and secure consensus mechanism. Thus, Elrond can process upwards of 10,000 transactions per second (TPS), with 5-second latency, and negligible cost, attempting to become the backbone of a permissionless, borderless, globally accessible internet economy.
About ProDeFi
By combining the best elements of decentralised finance with measured regulatory control, ProDeFi is bridging DeFi and traditional finance. ProDeFi applies a semi-decentralised approach to constructing solutions, leveraging on the transparency and security of decentralised architectures while providing a fail-safe layer through centralised systems and processes. A decentralized network of oracles deployed across various protocols will power the transmission of information and data between the ProDeFi Chain and other blockchains, leveraging on our liquidity pool smart contracts as a micro-ledger. With support from our partners, both in the blockchain industry and traditional financial markets, ProDeFi plans to spearhead the transition to a fully decentralized ecosystem, while keeping solutions realistic and applicable during the process.
---
For more information, please visit us:
---
Latest news on Elrond
Check out our latest blog posts and updates