BitMart Joins Elrond As Strategic Ecosystem Partner. EGLD Listing And ESDT Integration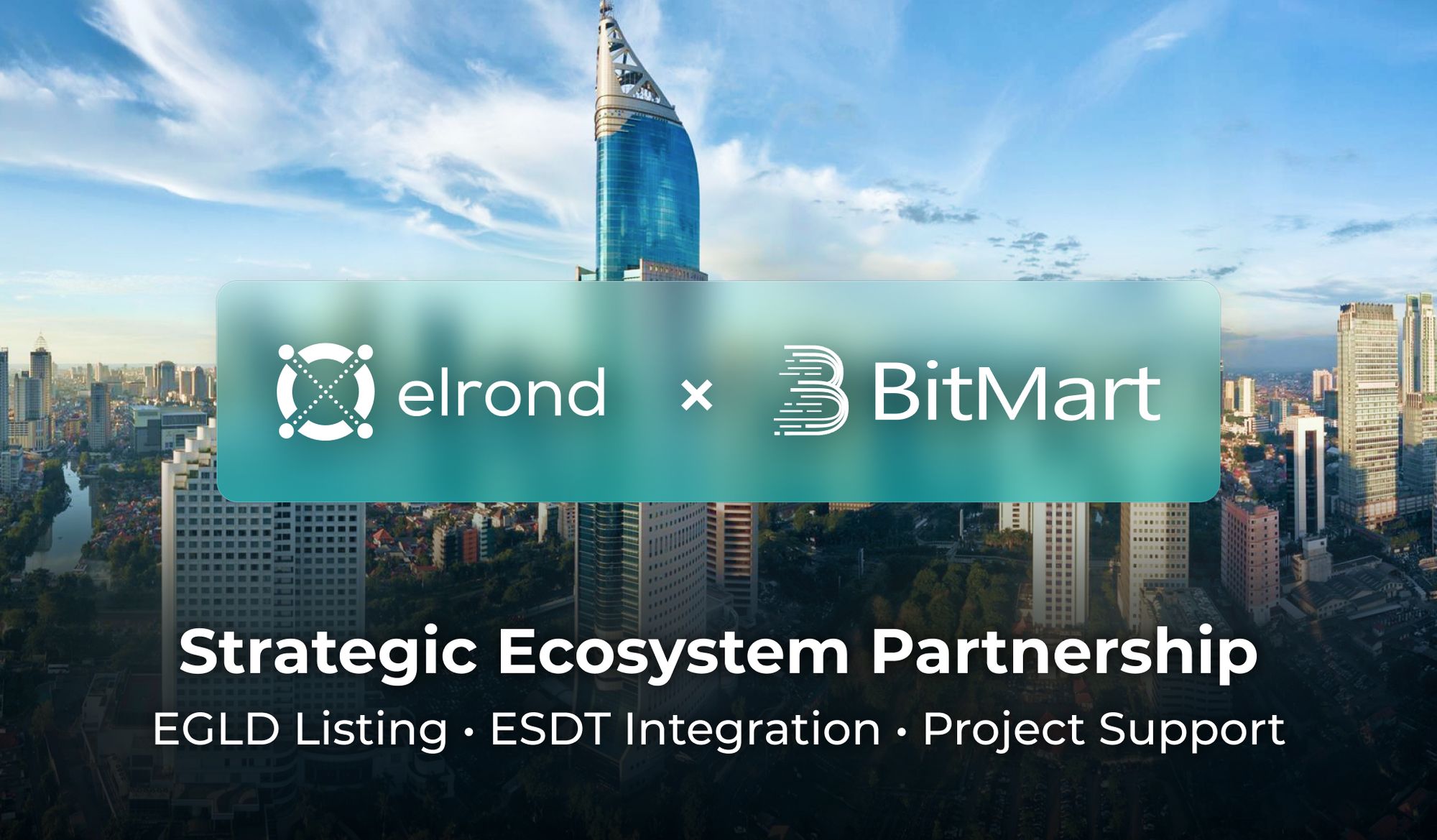 We are excited to announce that BitMart, one of the world's leading digital assets exchanges, is now a strategic Elrond partner!  This new collaboration will focus on the development of the Elrond ecosystem through funding, new markets and other support.
The partnership begins with BitMart unveiling Elrond's listing EGLD available to the exchange's over nine million users, pairing it with USDT.
Deposits - May 09, 17:00 UTC
Trading - May 11, 14:00 UTC
Withdrawal - May 12, 14:00 UTC
BitMart has also integrated the ESDT standard, which will set the stage for projects to be built on Elrond for future listings on the BitMart Exchange.
Since 2018, BitMart's focused on driving the world to a better financial system through the BitMart Exchange, which features over $3 Billion (USD) in daily trading volume with over nine million users in over 190 countries.
"Thanks to its soaring popularity and deep liquidity, BitMart will open exciting opportunities for expanding the Elrond ecosystem and create new avenues for projects building with internet-scale technology to accelerate on their paths towards global adoption." said Daniel Serb, Head of Business Development at Elrond Network.
"Partnerships like this one with Elrond continue to prove why BitMart is one of the leading exchanges in the space," BitMart founder and CEO, Sheldon Xia said. "Creating opportunities for not only great projects like Elrond, but showcasing new utilities and opportunities for our nine million users is the backbone of our business and we can't wait to see what this opportunity brings."
About Elrond
Elrond is a new blockchain architecture, designed from scratch to bring a 1000-fold cumulative improvement in throughput and execution speed. To achieve this, Elrond introduces two key innovations: a novel Adaptive State Sharding mechanism, and a Secure Proof of Stake (PoS) algorithm, enabling linear scalability with a fast, efficient, and secure consensus mechanism. Thus, Elrond can process upwards of 15,000 transactions per second (TPS), with 6-second latency, and negligible cost, attempting to become the backbone of a permissionless, borderless, globally accessible internet economy.
About BitMart
BitMart Exchange is a premier global digital asset trading platform with more than nine million users worldwide and ranked among the top crypto exchanges on CoinGecko. We are currently offering 850+ trading pairs with one of the lowest trading fees in the industry, and we are a constantly evolving and growing platform. To learn more about BitMart, visit our website, follow our Twitter, or join our Telegram for updates, news, and promotions.
---
For more information, please visit us:
---
---
Latest news on Elrond
Check out our latest blog posts and updates