It's Time To Build: $15M USD Elrond Dubai Incubator By Morningstar Ventures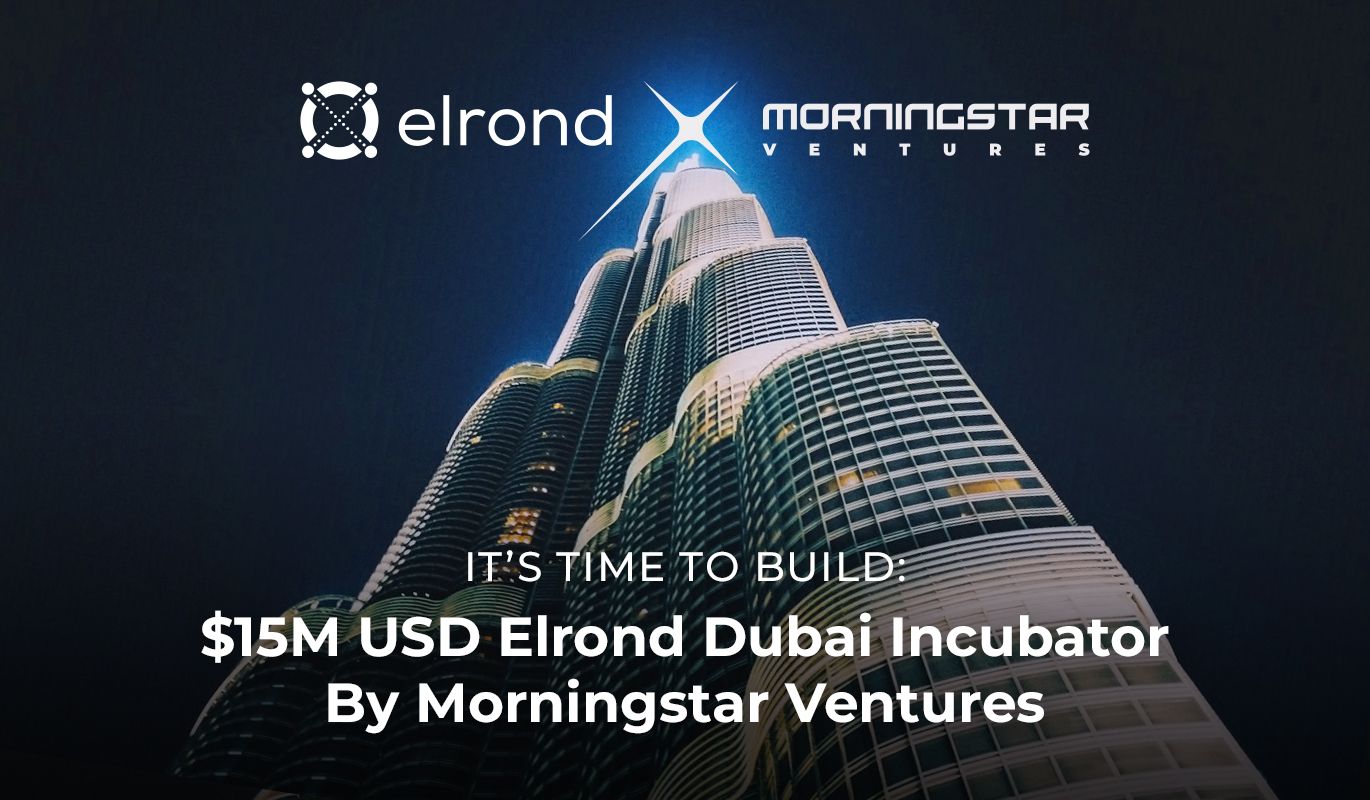 We're excited to announce that Morningstar Ventures has committed $15 million USD to support global teams building with Elrond technology. A Dubai incubator will be deployed as part of this initiative, to support strategic Elrond projects, on a global basis, but with a specific focus in the UAE and Middle East and North Africa (MENA) region.
Morningstar Ventures is a blockchain innovation firm that drives the proliferation of decentralized technologies through strategic placements in startups that it supports with funding, advisory and ecosystem building.
Danilo S. Carlucci, Morningstar Ventures' Co-Founder and Chief Investment Officer, met Beniamin at Devcon Prague in 2018. Their shared vision about a new global financial system has led Danilo to become one of Elrond's first angel investors, and an advisor later on, relentlessly supporting the expansion of our ecosystem and advocating for Elrond tech adoption.
"It has been incredible to observe how the unique combination of vision, talent and execution capabilities enabled Elrond to outperform much bigger and way better funded teams.
Their rapidly evolving internet-scale blockchain technology is perhaps the most advanced in the space, which creates an asymmetric opportunity for Elrond to rapidly catch up with - and perhaps even surpass - the biggest blockchain ecosystems.
We're thrilled to take this opportunity and build alongside the hardest working team and most engaged community." said Danilo S. Carlucci, Morningstar Ventures Co-Founder and Chief Investment Officer.
Morningstar Ventures is ready to mobilize significant resources to raise awareness about opportunities in the Elrond ecosystem and will invest $15 million USD into disruptive decentralized projects building with internet-scale technology.
The first project to receive a strategic placement from the Morningstar fund is holoride, the Audi-backed extended reality media platform that seeks to add new dimensions to every car ride through the use of Virtual Reality, in-motion sensors, and haptic feedback devices, with a fair, transparent and sustainable content economy running on the Elrond blockchain.
The new Elrond Dubai incubator will offer support to global teams, with an additional focus on seizing strategic opportunities for the Elrond ecosystem in the UAE and across the Middle East and North Africa (MENA) region, where blockchain technology sees rapidly growing interest at institutional and government levels.

"The explosive growth of the Elrond ecosystem happened with an unstoppable team building internet-scale technology and an amazing community supporting them.
Now, major players such as Morningstar Ventures are making significant long term commitments aimed at the rapid adoption of our tech.
This signals the start of the next explosive growth phase for the Elrond ecosystem, where driven builders will leverage powerful devkits to innovate at the forefront of the blockchain Supercycle." said Beniamin Mincu, Elrond Network CEO.
Extraordinary teams looking to build with Elrond technology, that are at least in an advanced ideation phase, can reach out to Morningstar Ventures to apply for funding and support by sending an email at elrond@morningstar.ventures
https://morningstar.ventures/elrond/
About Elrond
Elrond is the internet-scale blockchain, designed from scratch to bring a 1000-fold cumulative improvement in throughput and execution speed. To achieve this, Elrond introduces two key innovations: a novel Adaptive State Sharding mechanism, and a Secure Proof of Stake (PoS) algorithm, enabling linear scalability with a fast, efficient, and secure consensus mechanism. Thus, Elrond can process upwards of 15,000 transactions per second (TPS), with 6-second latency, and negligible cost, attempting to become the backbone of a permissionless, borderless, globally accessible internet economy.
About Morningstar Ventures
Morningstar Ventures is an investment firm backing ambitious ideas by early stage founders. Based in Dubai, Morningstar Ventures focuses primarily on the blockchain and digital assets space and is is led by Chief Investment Officer Danilo S. Carlucci. The firm is active in both token investments and equity investments, and has a particularly strong focus in the Elrond ecosystem.
https://morningstar.ventures/
---
For more information, please visit us:
---
---
Latest news on Elrond
Check out our latest blog posts and updates