Taking US Exposure To The Next Level: 350 Million People In 51 US Jurisdictions And Canada Get A Compliant Path To Access EGLD Via ZeroHash Integration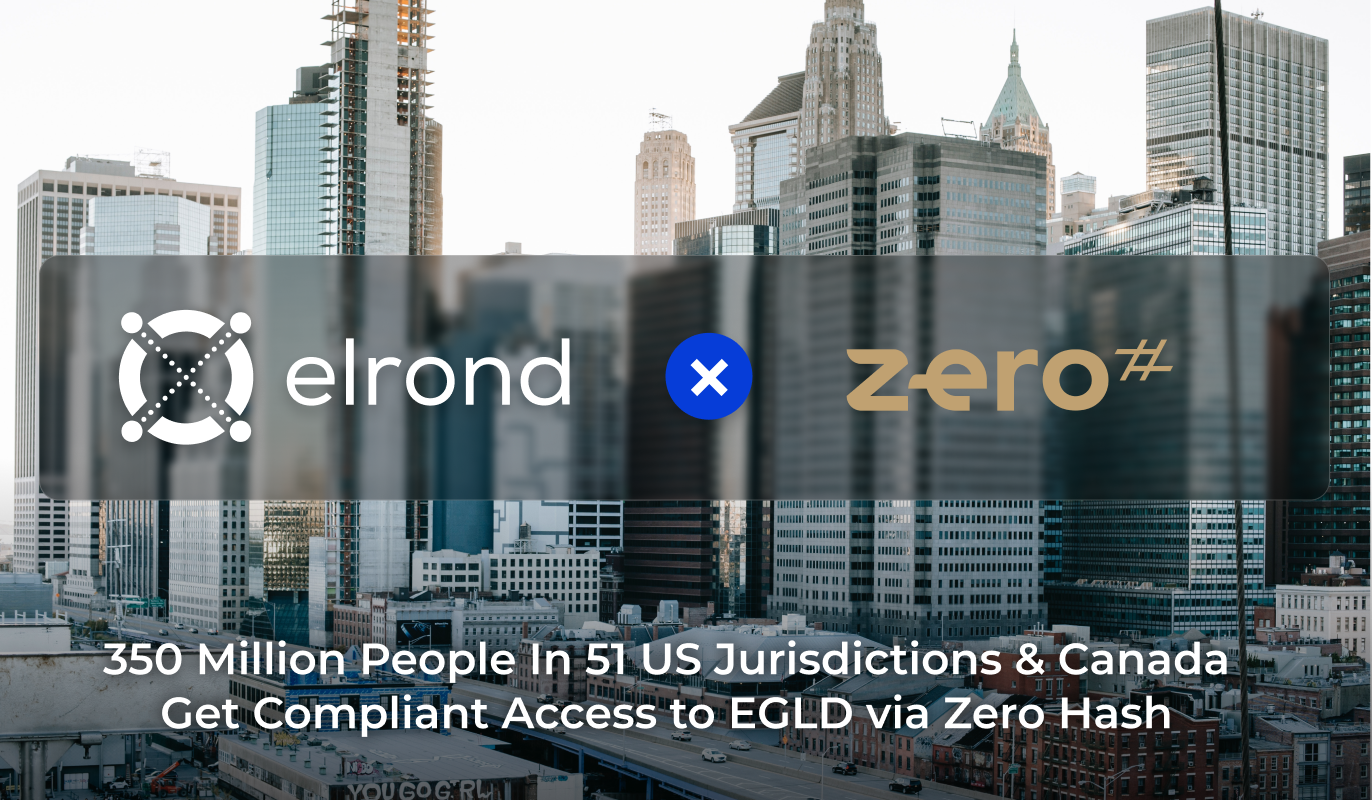 We are excited to announce that Zero Hash, the leading regulated digital asset settlement platform that can operate in 51 US jurisdictions, has added native EGLD support for settlement, custody and liquidity services.
As a result, 350 million people in the US and Canada, as well as financial institutions and regulated platforms, have access to EGLD in a fully compliant manner.
The integration went live over the weekend and our payment processor partners have started the integration process to allow US customers access to EGLD via card payments and bank transfers.
"The Zero Hash integration clears a compliant path for 350 million people in 51 US jurisdictions and Canada to get access to EGLD via our existing fiat on-ramp partners, as well as provide the infrastructure to enable rapid growth in the US markets for compelling products built with internet-scale blockchain technology." said Beniamin Mincu, Elrond Network CEO.
"We're really excited to integrate with an innovative network such as Elrond. Their tech is exceptional and they've put a lot of effort into building tools. I'm confident this project will be an important component of the wider ecosystem in the near future." said Erik Schluter, VP of Engineering at Zero Hash.
About Elrond
Elrond is the internet-scale blockchain, designed from scratch to bring a 1000-fold cumulative improvement in throughput and execution speed. To achieve this, Elrond introduces two key innovations: a novel Adaptive State Sharding mechanism, and a Secure Proof of Stake (PoS) algorithm, enabling linear scalability with a fast, efficient, and secure consensus mechanism. Thus, Elrond can process upwards of 15,000 transactions per second (TPS), with 6-second latency, and negligible cost, attempting to become the backbone of a permissionless, borderless, globally accessible internet economy.
About Zero Hash
Zero Hash's mission is to empower innovators by delivering access to the financial system 2.0. Zero Hash provides the complete turnkey solution to allow platforms to launch digital assets and own the client experience, without any regulatory overhead and a light technical lift (a matter of API endpoints). Zero Hash enables developers and businesses to focus on building experiences and products. Zero Hash's clients include Neo-banks, broker-dealers, and payment groups.
Zero Hash Holdings Ltd. is a Delaware C-Corp that wholly owns Zero Hash LLC and Zero Hash Liquidity Services LLC. Zero Hash LLC, a subsidiary of Zero Hash Holdings Ltd., is a FinCen-registered Money Service Business as well as a regulated Money Transmitter that can operate in 51 US jurisdictions. Zero Hash also holds a virtual currency license from NYDFS. In Canada, Zero Hash LLC is registered as a Money Service Business with FINTRAC.
www.zerohash.com
---
For more information, please visit us:
---
---
Latest news on Elrond
Check out our latest blog posts and updates