Decentralized Prediction Markets For Elrond Network Events And Assets Via Polkamarkets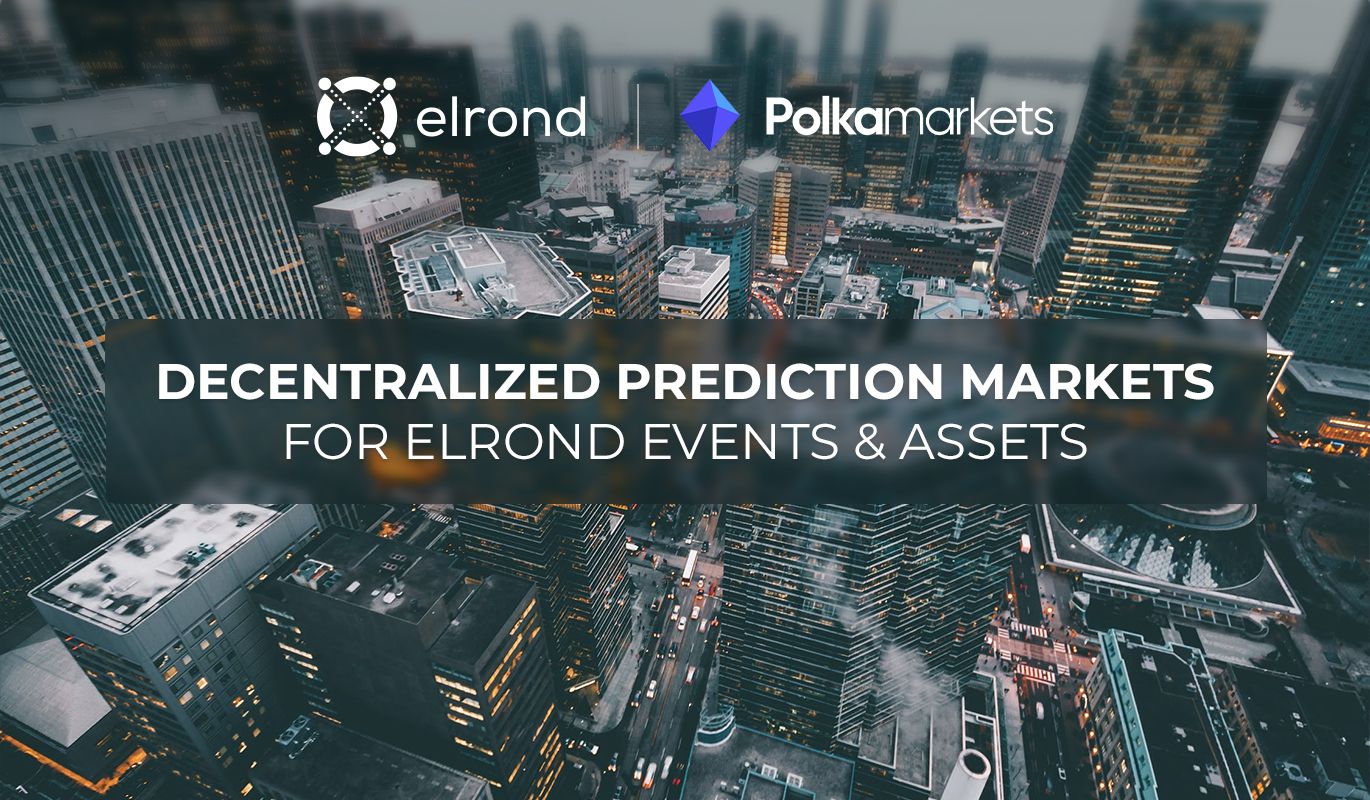 Prediction markets are exchange-like platforms where users can make predictions about various types of events and monetize those predictions. These markets are essential tools for businesses, institutions, or even governments to factor in crowd-wisdom into their decision-making process.
Their value has been steadily growing over time, thanks to the proliferation of the internet and easier access to information. It is estimated that the volume of prediction markets involving the US presidential elections is on average about 50% of the campaign budgets.
To be effective, prediction markets must meet three important criteria: diversity of information, independence of decision, and decentralization of organization. Therefore, it can be argued that decentralized prediction markets are perhaps the first iteration of truly effective crowd-wisdom tools for the digital age.
This is why we are excited to announce that Elrond Network will be integrated with the Polkamarkets platform, allowing their users to monetize predictions on events such as smart contract outcomes or asset prices.
"Blockchain technology is the missing piece enabling us to productively use the collective wisdom of the internet. The collaboration with Polkamarkets enables owners of use-cases deployed on the Elrond Network to introduce intelligent triggers into their decision making." said Beniamin Mincu, Elrond CEO.
Polkamarkets offers gamified prediction markets for outcomes of events in many categories which include politics, finance, entertainment, or eSports. Users can monetize their forecasts on future outcomes in any available category. Decision-makers can open new prediction markets and incentivize users to participate, gathering their collective knowledge in lucrative scenarios for all involved.
The collaboration will focus on integrating the possibility for events on the Elrond Network to trigger actions on Polkamarkets. Forecasts on events such as the amount of eGold staked at a certain point in time, the outcome of a governance proposal, the price of an asset, or any other such event, will be possible for users of the platform and their outcome would automatically trigger actions such as payments.
In the long term, our projects seek even deeper integrations, such as issuing a portion of the $POLK circulating supply as Elrond ESDT tokens, so Polkamarket users can enjoy Elrond DeFi opportunities with their earned tokens.
"The Elrond Network has a vibrant community, an impressive amount of projects integrating its tech, and incredible momentum. We're happy to tap into the Elrond ecosystem and enable its members to participate in our markets and derive useful insights from them." said Ricardo Marques, Polkamarkets CEO.
The collaboration is important for the Elrond ecosystem because it adds an essential source of information for decision-makers and gives everyone an opportunity to engage with assets and events happening on our mainnet in a meaningful way.
About Elrond
Elrond is the internet-scale blockchain, designed from scratch to bring a 1000-fold cumulative improvement in throughput and execution speed. To achieve this, Elrond introduces two key innovations: a novel Adaptive State Sharding mechanism, and a Secure Proof of Stake (PoS) algorithm, enabling linear scalability with a fast, efficient, and secure consensus mechanism. Thus, Elrond can process upwards of 15,000 transactions per second (TPS), with 6-second latency, and negligible cost, attempting to become the backbone of a permissionless, borderless, globally accessible internet economy.
About Polkamarkets
Polkamarkets is a DeFi-Powered Prediction Market built for cross-chain information exchange and trading where users take positions on outcomes of real-world events–in a decentralized and interoperable platform based on Polkadot.
---
For more information, please visit us:
---
---
Latest news on Elrond
Check out our latest blog posts and updates