HyperChain Capital Deploys Elrond Infrastructure For Asian And Global Customers Via HyperBlocks Professional Staking Services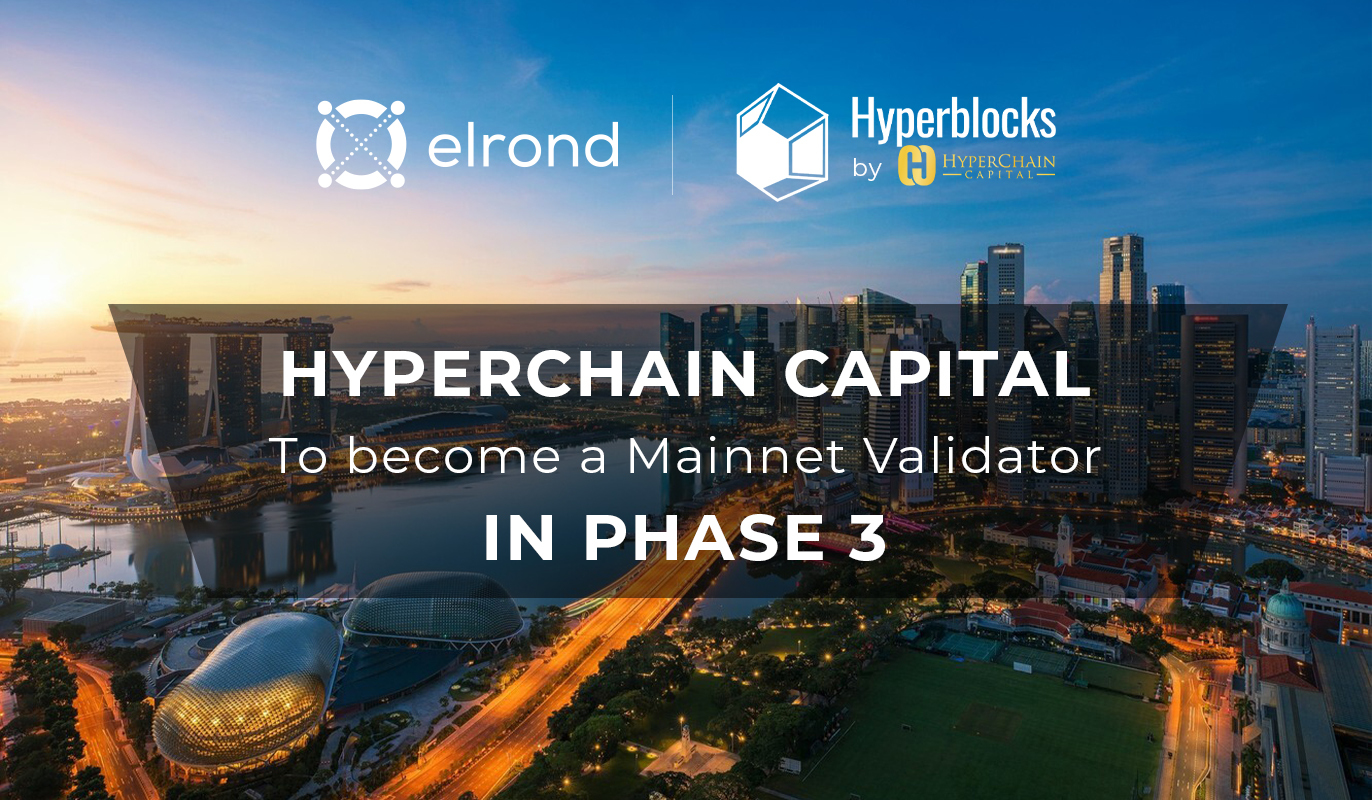 Singapore-based HyperChain Capital is one of the first digital assets management companies in the world. It is focused on blockchain-based projects and decentralized protocols and is an early Elrond investor.
Following their strategy for engaging with their portfolio and customers in the long-term, the company launched professional staking services provider HyperBlocks in 2018. We are excited to announce that they will be operating Elrond infrastructure and provide staking services to their customer base.
"The collaboration with HyperChain Capital and HyperBlocks opens the Elrond ecosystem to an influx of capital that will strengthen the security of our mainnet and further diversify participation to include a wider Asian and global customer base" said Beniamin Mincu, Elrond CEO.
HyperChain Capital has been in the blockchain space since early 2013 and has since supported more than 40 projects with capital, advisory, and guidance. The firm has recently committed to invest an additional $50 million USD over the next years, while also continuing to support their portfolio companies and provide complementary services, such as staking through their infrastructure arm HyperBlocks.
HyperBlocks has been a pioneer in the professional blockchain infrastructure industry and ran some of the largest mining facilities in Asia. They provide industrial-grade security through hardware security models (HSW) and safeguard their operations with sentry node DDoS protection.
"We've been anticipating the launch of Elrond's Phase 3 Staking, which will enable us to engage our customers and participate in securing one of the best performing and fastest growing blockchain ecosystems" said Stelian Balta, CEO HyperChain Capital.
The collaboration is important for the Elrond Network because it contributes additional secure and professional infrastructure to our mainnet and broadens the availability of Elrond staking services in new Asian and global markets.
About Elrond
Elrond is the internet-scale blockchain, designed from scratch to bring a 1000-fold cumulative improvement in throughput and execution speed. To achieve this, Elrond introduces two key innovations: a novel Adaptive State Sharding mechanism, and a Secure Proof of Stake (PoS) algorithm, enabling linear scalability with a fast, efficient, and secure consensus mechanism. Thus, Elrond can process upwards of 15,000 transactions per second (TPS), with 6-second latency, and negligible cost, attempting to become the backbone of a permissionless, borderless, globally accessible internet economy.
About HyperBlocks
HyperBlocks is a blockchain technology firm that is a pioneer in the world of PoS protocols and as a SaaS provider. Originally a mining firm operating one of the biggest facilities in Asia, HyperBlocks has expanded its scope to supporting innovation with its venture capital arm, HyperChain Capital, and is among the leaders of validating and staking on major public PoS blockchain networks.
https://www.hyperchain.capital/
---
For more information, please visit us:
---
---
Latest news on Elrond
Check out our latest blog posts and updates