Elrond Strengthens Mainnet Lineup with 16th Infrastructure Partner Stateless Money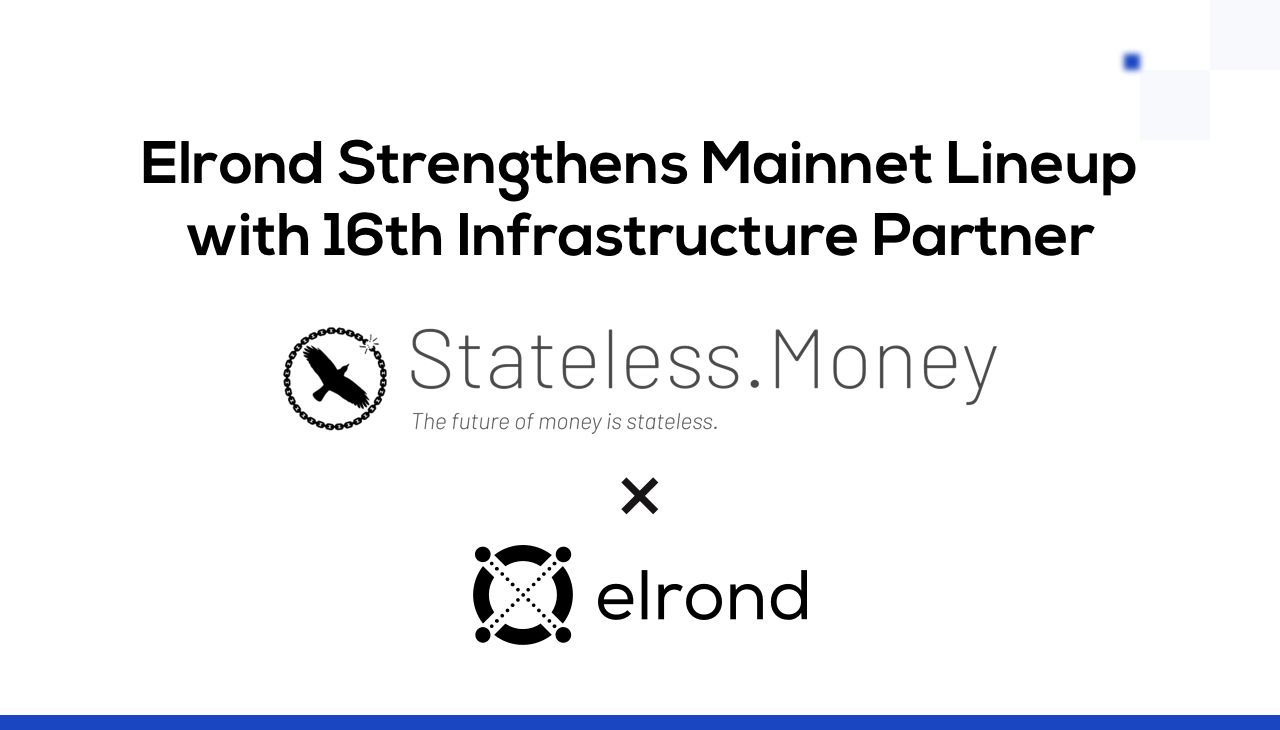 We're excited to announce that Stateless Money will join us as a Genesis Launch partner and staking service provider. The German-based firm is running high-end infrastructure for several blockchain projects whose communities recognize Stateless Money as skilled operators.
With the addition of our latest launch partner, we secure an additional top-performing layer that complements the Elrond Foundational nodes and helps us achieve a mainnet launch in the best conditions. The exposure of our PoS economy to their existing German customer base gives Elrond an additional boost of long term supporters.
"I am impressed by the technical expertise demonstrated by our new partners. Their experience with orchestrating large deployments in complex architectures is a very welcome addition to our DevOps processes." said Lucian Mincu, Elrond CIO.
Stateless Money is very present in the Proof of Stake scene and has been an active participant in different projects where they stood out by applying enterprise-like operational procedures to bolster the performance and availability of decentralized infrastructure.
" We shifted our attention to Elrond because we see their protocol to be the first one that truly scales in a proven environment. It is an excellent opportunity to showcase our abilities and a challenge to see if we can further improve the ecosystem by applying our expertise." said Ben Weiss, Stateless Money co-founder.
About Elrond
Elrond is a new blockchain architecture, designed from scratch to bring a 1000-fold cumulative improvement in throughput and execution speed. To achieve this, Elrond introduces two key innovations: a novel Adaptive State Sharding mechanism, and a Secure Proof of Stake (PoS) algorithm, enabling linear scalability with a fast, efficient, and secure consensus mechanism. Thus, Elrond can process upwards of 10,000 transactions per second (TPS), with 5-second latency, and negligible cost, attempting to become the backbone of a permissionless, borderless, globally accessible internet economy.
About Stateless Money
Stateless Money is a professional staking infrastructure services provider out of Germany who mixes enterprise-grade systems orchestration experience with a passion for decentralized architectures, to deliver the highest quality service for customers seeking to stake their assets at the highest confidence levels.
---
For more information, please visit us:
---
Latest news on Elrond
Check out our latest blog posts and updates