Elrond to add On & Off Fiat Ramp for 39 European Countries via Dutch Coinmerce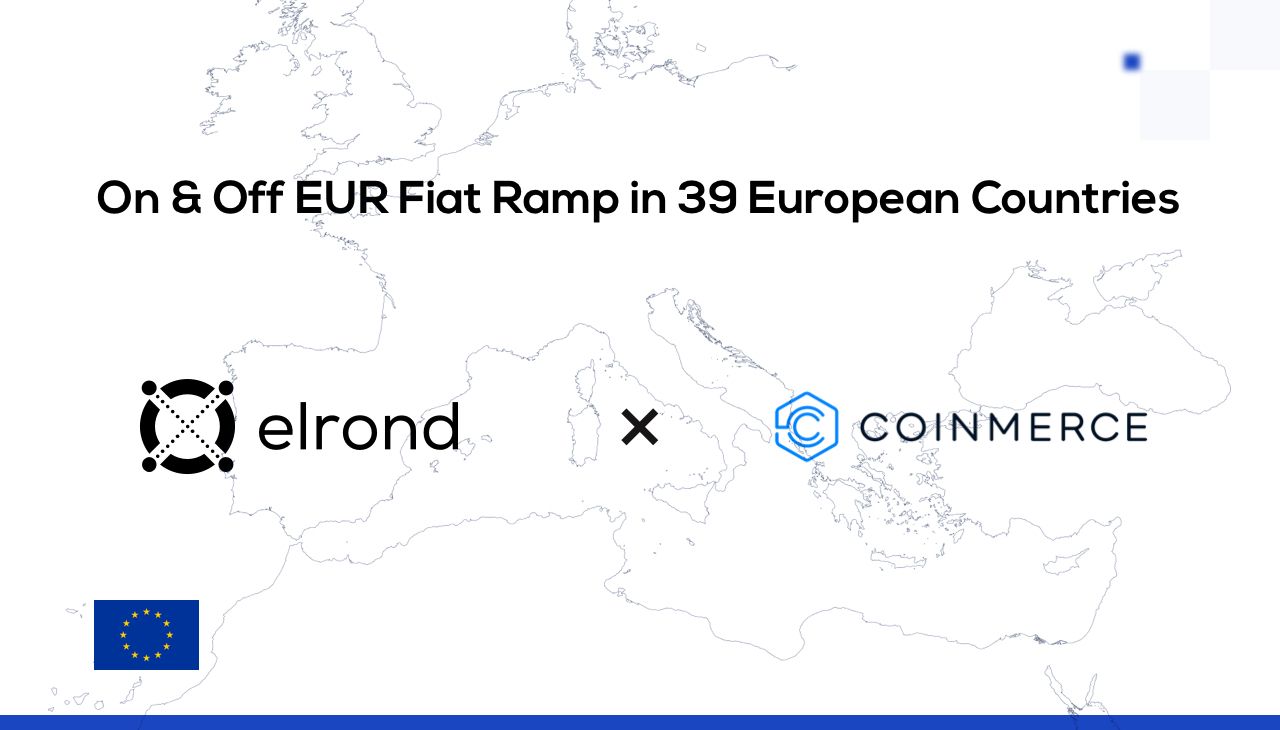 We're excited to announce that the $ERD token can be exchanged against EUR fiat through Coinmerce. The Dutch financial services provider offers a convenient gateway between fiat and crypto using credit cards and bank transfers and is available in 39 countries in Europe.
"Convenient fiat on & off ramps are key to accelerating Elrond growth. By working with Coinmerce we make it easy for our European supporters to join our ecosystem." said Beniam Mincu, Elrond CEO.
Coinmerce is a Dutch financial services provider established in 2017. It has since grown to accommodate more than 140 coins for their fiat on & off -ramp services, in 39 European countries. Their services are available via the https://coinmerce.io website, on iOS and Android, as well as via APIs and webhooks.
"We're always looking to expand the portfolio we offer to our customers with the most relevant coins. Elrond has been performing remarkably well and we are happy to be able to provide it to our customers, especially now that there is a surge in interest for those looking to onboard." said Nick Smits van Oyen, Coinmerce CEO
By facilitating access to the Elrond ecosystem for people from 39 European countries, we take an important step forward on the road to making Elrond more accessible, so anyone can benefit from its advanced technology and easy to use interface.
About Elrond
Elrond is a new blockchain architecture, designed from scratch to bring a 1000-fold cumulative improvement in throughput and execution speed. To achieve this, Elrond introduces two key innovations: a novel Adaptive State Sharding mechanism, and a Secure Proof of Stake (PoS) algorithm, enabling linear scalability with a fast, efficient, and secure consensus mechanism. Thus, Elrond can process upwards of 10,000 transactions per second (TPS), with 5-second latency, and negligible cost, attempting to become the backbone of a permissionless, borderless, globally accessible internet economy.
About Coinmerce
The idea of Coinmerce arose in 2017 to address barriers encountered by those seeking to enter the crypto space. Coinmerce started to build an easy to use broker, enabling people to invest in and learn about cryptocurrency effortlessly. The platform was named Coinmerce, a balance between coins and commerce with a focus on the best (e)commerce user-experience.
---
For more information, please visit us:
---
Latest news on Elrond
Check out our latest blog posts and updates