Trust Wallet Users Can Now Use Tokens On The Elrond Network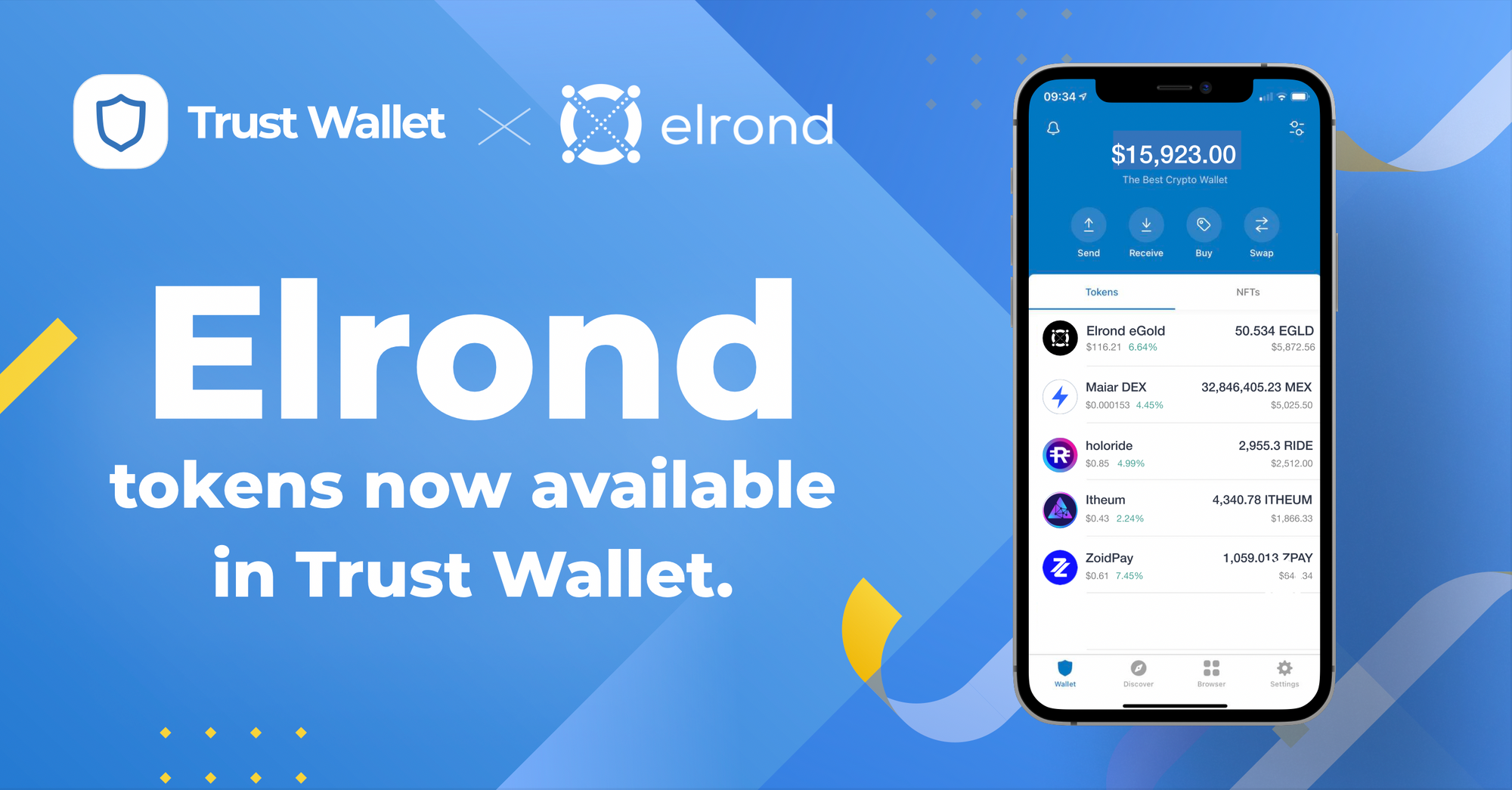 We're excited to announce that Trust Wallet has completed the integration of the Elrond ESDT token standard!
Trust Wallet is the official crypto wallet of Binance and enjoys massive popularity across the globe, helping millions of people to use crypto safely and securely. It offers support for more than 64 blockchains and 3 million digital assets including NFTs, making it the most inclusive multi-chain wallets. It truly is THE one-stop-shop crypto wallet.

Download Trust Wallet for free here!
The ESDT integration gives the app's users the opportunity to explore digital assets operating at an internet scale.
Popular tokens on the Elrond Network such as MEX, RIDE or ITHEUM are already available in the latest version of the app.
Register your ESDT in Trust Wallet
About Elrond
Elrond is a new blockchain architecture, designed from scratch to bring a 1000-fold cumulative improvement in throughput and execution speed. To achieve this, Elrond introduces two key innovations: a novel Adaptive State Sharding mechanism, and a Secure Proof of Stake (PoS) algorithm, enabling linear scalability with a fast, efficient, and secure consensus mechanism. Thus, Elrond can process upwards of 15,000 transactions per second (TPS), with 6-second latency, and negligible cost, attempting to become the backbone of a permissionless, borderless, globally accessible internet economy.
About Trust Wallet
A simple and secure mobile wallet that supports 64 blockchains and over 3 million digital assets including NFTs, currently being used by over 50M people worldwide and provides a fully security audited system that makes it simple to store all your crypto assets.  Your private keys are stored on your device and your assets on-chain meaning you are in full control at all times.
Feature-wise, Trust Wallet gives you the ability to natively buy, swap and stake your favorite crypto without having to leave the app (you can purchase Elrond $EGLD from 4 different payment providers for example!), and connect to dApps with the in-built dApp browser.
Trust Wallet is proud to be a key industry #BUIDLer with its 'Trust Wallet Core' open source project, that leads the multi-chain integration for wallets, built with the community, for the community.
---
For more information, please visit us:
---
---
Latest news on Elrond
Check out our latest blog posts and updates