Data Analytics For A Multi-Trillion Dollar Asset Class: Elrond Verified Profile Connected To Messari Registry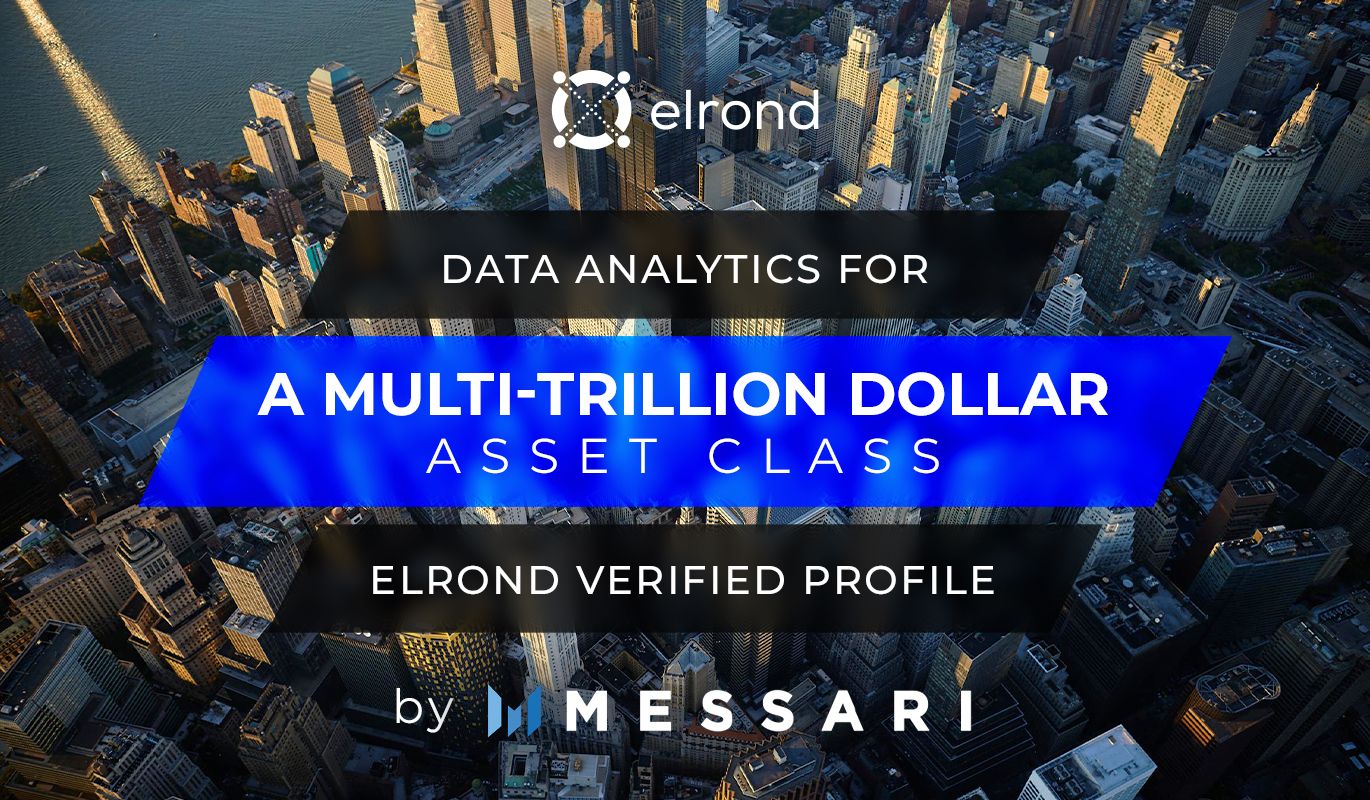 Bitcoin has outperformed every other type of asset over the last decade and has been making its way into the portfolios of some of the largest institutions in the world. Its recent performance has firmly placed the $900+ billion dollars digital assets market on every investor's radar. But this is just the beginning.
To thoughtfully engage in this new multi-trillion-dollar asset class, large investors will perform extensive due diligence. In traditional investment resources such as the SEC's EDGAR or professional services from the likes of Bloomberg and Thomson Reuters are essential.
These are curated registries that offer a trustworthy source of relevant information about a company, asset analysis, transparency reports, and news which enable swift and informed decision making.
Cryptocurrency research firm Messari is attempting to establish the same level of transparency and trust in the blockchain space. They maintain a transparent disclosures registry and perform professional research for their large - and mostly US - customer base and audience.
We're excited to announce that the US community can now get a detailed overview of Elrond based on verified information from Messari!
"Messari's research efforts offer a great overview on Elrond's vision, progress milestones and metrics for the entire global and US community, just as the $900+ billion-dollars digital assets market is capturing everyone's imagination and attention." said Beniamin Mincu, Elrond CEO.
The research firm is on a mission to bring transparency to the cryptoeconomy. Their goal is to help investors, regulators, and the public make sense of this revolutionary new asset class and are building data tools that will drive informed decision making and investment.
Messari was founded by Ryan Selkis, a former entrepreneur-in-residence at ConsenSys who helped found the Digital Currency Group and worked with CoinDesk. The company's comprehensive analysis regularly reaches a large US audience of more than 30,000 newsletter subscribers and 60k+ Twitter followers.
The Elrond update by Messari is extremely valuable and happens at perhaps the best time, as new investors come looking for credible news and information in an emerging multi-trillion dollar space brimming with opportunity.
Find out more: https://messari.io/asset/elrond
About Elrond
Elrond is the internet-scale blockchain, designed from scratch to bring a 1000-fold cumulative improvement in throughput and execution speed. To achieve this, Elrond introduces two key innovations: a novel Adaptive State Sharding mechanism, and a Secure Proof of Stake (PoS) algorithm, enabling linear scalability with a fast, efficient, and secure consensus mechanism. Thus, Elrond can process upwards of 15,000 transactions per second (TPS), with 6-second latency, and negligible cost, attempting to become the backbone of a permissionless, borderless, globally accessible internet economy.
About Messari
Messari is the industry's leading market intelligence company focused on the digital asset ecosystem. The company's tools and research solutions provide customers with actionable insights to confidently make decisions in the fast-moving crypto-asset space. Since its inception in 2017, Messari has built strong relationships with the industry's top thinkers, investors, and builders from today's most promising projects. Learn more about Messari at messari.io.
---
For more information, please visit us:
---
---
Latest news on Elrond
Check out our latest blog posts and updates