Halo Indonesia! 2 Million New Users Get Direct Access to EGLD via IDR fiat on Indonesia's Largest Exchange Indodax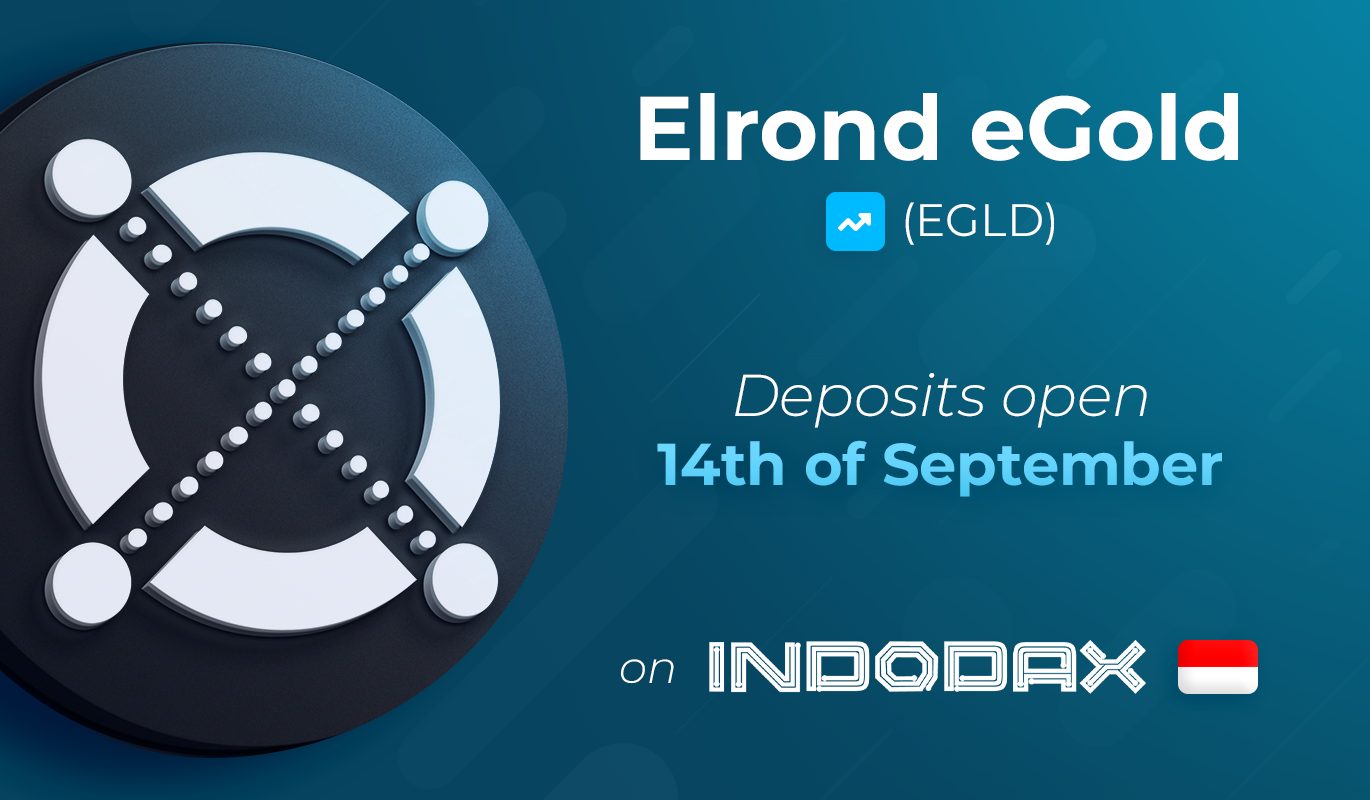 We're excited to announce that 2 million new users will get access to EGLD via the local IDR fiat currency!
Indodax is regulated by the local Commodity Futures Trading Regulatory Agency (BAPPEBTI), in accordance with the local laws that define digital assets as legitimate commodities.
The exchange boats $500 million dollars in monthly volume and is recognized as Indonesia & South-East Asia's largest exchange.
Deposits will open on the 14th of September 07:00 UTC and trading starts on the 15th of September 07:00 UTC.
The listing is important for the Elrond ecosystem because it gives its very active Indonesian community direct access to EGLD with the Indonesian Rupiah via a regulated trading avenue.

About Elrond
Elrond is a new blockchain architecture, designed from scratch to bring a 1000-fold cumulative improvement in throughput and execution speed. To achieve this, Elrond introduces two key innovations: a novel Adaptive State Sharding mechanism, and a Secure Proof of Stake (PoS) algorithm, enabling linear scalability with a fast, efficient, and secure consensus mechanism. Thus, Elrond can process upwards of 10,000 transactions per second (TPS), with 5-second latency, and negligible cost, attempting to become the backbone of a permissionless, borderless, globally accessible internet economy.
About Indodax
INDODAX (formerly known as bitcoin.co.id) claims to be the largest marketplace platform to buy and sell digital assets (e.g. Bitcoin, Ethereum, Ripple) in Indonesia. As of Nov 2019, the exchange has more than 64 coins listed and 75 trading pairs. INDODAX claims to have more than 2 million registered members.
As a customer-centric company, INDODAX aims to offer features that promote ease of use. The team claims that users can purchase digital assets with IDR within an hour.
Indodax claims to be officially registered with the Commodity Futures Trading Regulatory Agency (BAPPEBTI) with the registration number: 002/BAPPEBTI/CP-AK/01/2020
---
For more information, please visit us:
---
---
Latest news on Elrond
Check out our latest blog posts and updates