Maiar Debuts Into Huawei's AppGallery, One Of The Top Three App Marketplaces Globally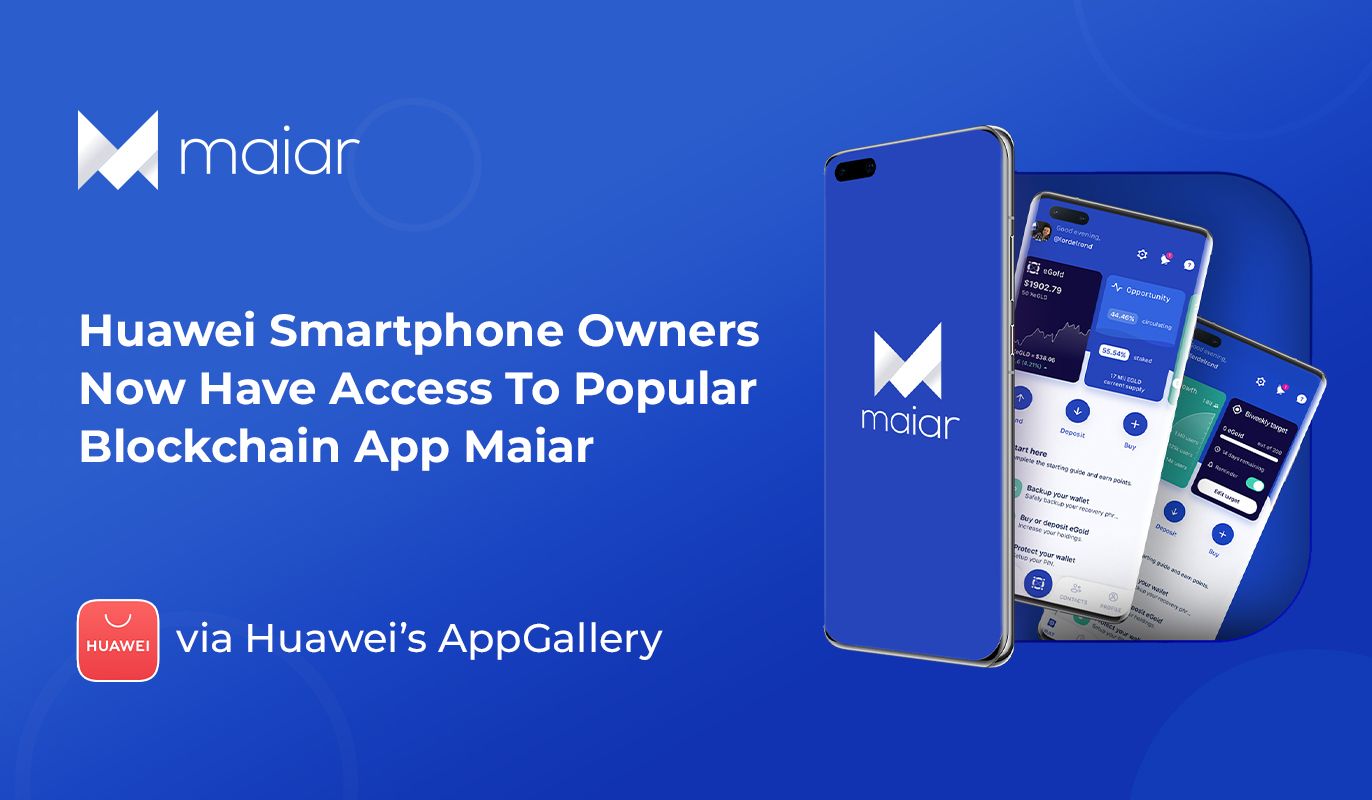 Maiar is on a mission to change how we think about value and to transform the way we interact with it. With deep care for the user, an elegant design, and an intuitive interface, our app enables any phone user to get a working blockchain wallet in seconds and participate in the new global financial system.
Maiar's intuitive simplicity will enable the next billion users to store, earn and pay using cryptocurrencies. In order for them to do that, they first need to be able to get the app, which is sometimes restricted by country or device manufacturer.
This is why we are excited to announce that Maiar is now available in Huawei's AppGallery, one of the top three app marketplaces globally!
"Decentralization is about carving new paths and challenging the status quo using technological innovation. The launch of Maiar in the Huawei AppGallery gives us exposure to a huge new user base, which is essential for our mission to enable access to a high bandwidth and low latency global financial system for anyone, anywhere." said Beniamin Mincu, Elrond Network CEO.
Huawei is one of the largest telecommunications equipment and consumer electronics manufacturers in the world. It has a significant share of the global smartphone market, which is served by a dedicated app marketplace, the AppGallery.
Through our collaboration, our app is now available to all Huawei users in all the countries where Maiar is available and will be maintained and promoted to users of the AppGallery.
"Blockchain technology will play an essential role in advancing the consumer internet, which needs to be mobile, personal, and secure. Maiar's debut in the AppGallery will empower our customers with an important tool that will help them take control of their financial health." said Siri Børsum, Global VP of Finance Vertical, Eco-development & Partnerships at Huawei Consumer Business Group.
The collaboration is an important achievement for Elrond which is now in a position to empower an even greater number of people to easily onboard our ecosystem and benefit from near-instant and inexpensive value transfers and other DeFi opportunities.
About Elrond
Elrond is the internet-scale blockchain, designed from scratch to bring a 1000-fold cumulative improvement in throughput and execution speed. To achieve this, Elrond introduces two key innovations: a novel Adaptive State Sharding mechanism, and a Secure Proof of Stake (PoS) algorithm, enabling linear scalability with a fast, efficient, and secure consensus mechanism. Thus, Elrond can process upwards of 15,000 transactions per second (TPS), with 6-second latency, and negligible cost, attempting to become the backbone of a permissionless, borderless, globally accessible internet economy.
About Huawei Consumer BG
Huawei's products and services are available in more than 170 countries and are used by a third of the world's population. Fifteen R&D centres have been set up in the United States, Germany, Sweden, Russia, India and China. Huawei Consumer BG is one of Huawei's three business units and covers smartphones, PC and tablets, wearables and cloud services, etc. Huawei's global network is built on almost 30 years of expertise in the telecom industry and is dedicated to delivering the latest technological advances to consumers around the world.
---
For more information, please visit us:
---
---
Latest news on Elrond
Check out our latest blog posts and updates