Maiar Launchpad Guide: How To Participate In The holoride Public Sale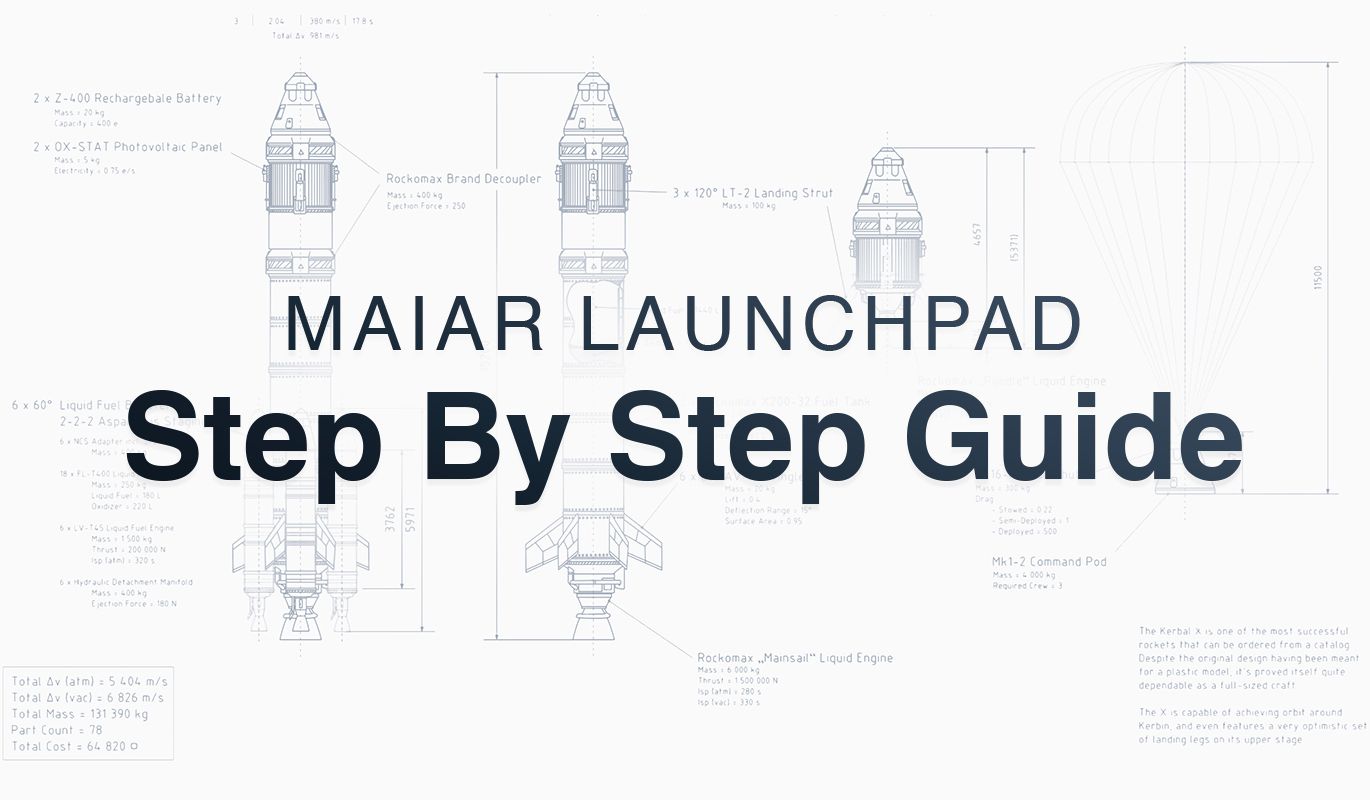 The first public sale hosted by the Maiar Launchpad is an exciting event of significance to the entire Elrond ecosystem and its upcoming wave of innovative projects. It is also something completely new. This guide will help you navigate through the process of participating in the holoride public sale.
Process overview
You perform KYC latest until November 22
On November 24 you will be able to buy lottery tickets proportional to your staked EGLD
Each lottery ticket costs $200, paid in EGLD. The EGLD price will be set according to the EGLD/USD value on that day
Winning tickets allow their holder to claim 5000 RIDE tokens. Non-winning tickets allow their holder to claim back the EGLD spent on them. More tickets means more chances to win
Winning tickets are randomly selected on November 25
On November 26, participants can claim the RIDE tokens proportionally to their winning tickets, and get back their EGLD for non-winning tickets.
04 - 22 November - Registration and KYC
The Maiar Launchpad requires you to log in using an Elrond wallet. You can do this using your Maiar App, Ledger device, Elrond Web Wallet or Maiar DeFi Wallet.
Once you log in, make sure to carefully read all the included material and then start the KYC procedure. KYC stands for "Know Your Customer" and is a mandatory process for the public sale to happen according to the applicable regulations.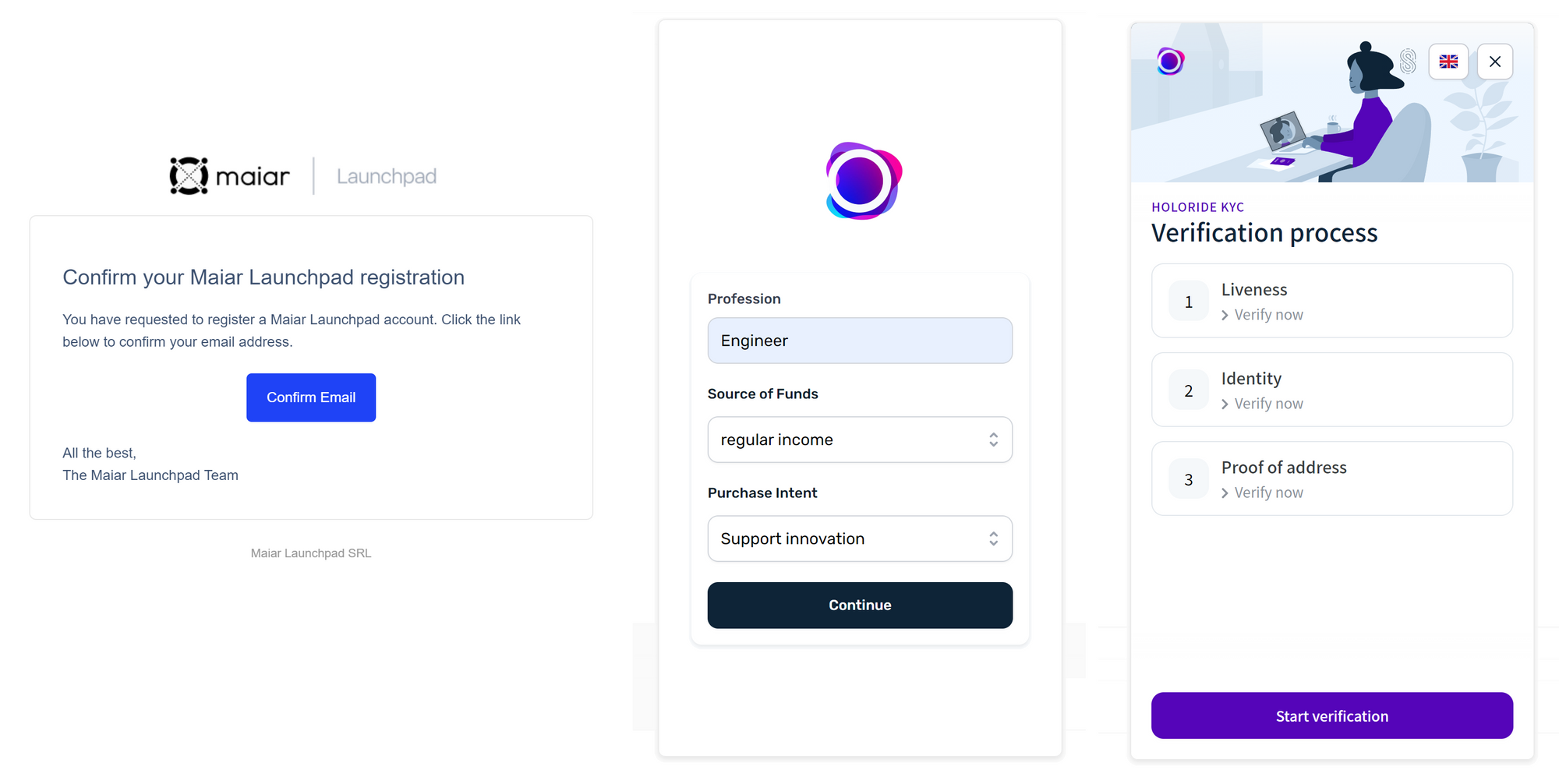 All the information you provide in this process goes directly to our trusted partner Synaps - a professional KYC/AML service provider
We recommend using a smartphone with a good camera
If your country is marked with a 🚫 it means you are not eligible to participate in the public sale
If your KYC is declined, check your account to see what you can change to proceed
When a KYC is rejected, the rejection is final
Users who pass KYC are now eligible to participate in the lottery
You can choose to change the participating wallet address, until latest on November 22.
24 November - Buying lottery tickets
On November 24 you will be presented with the option to buy as many tickets as you qualify for your tier. You can buy all of them, none of them, or any number in between.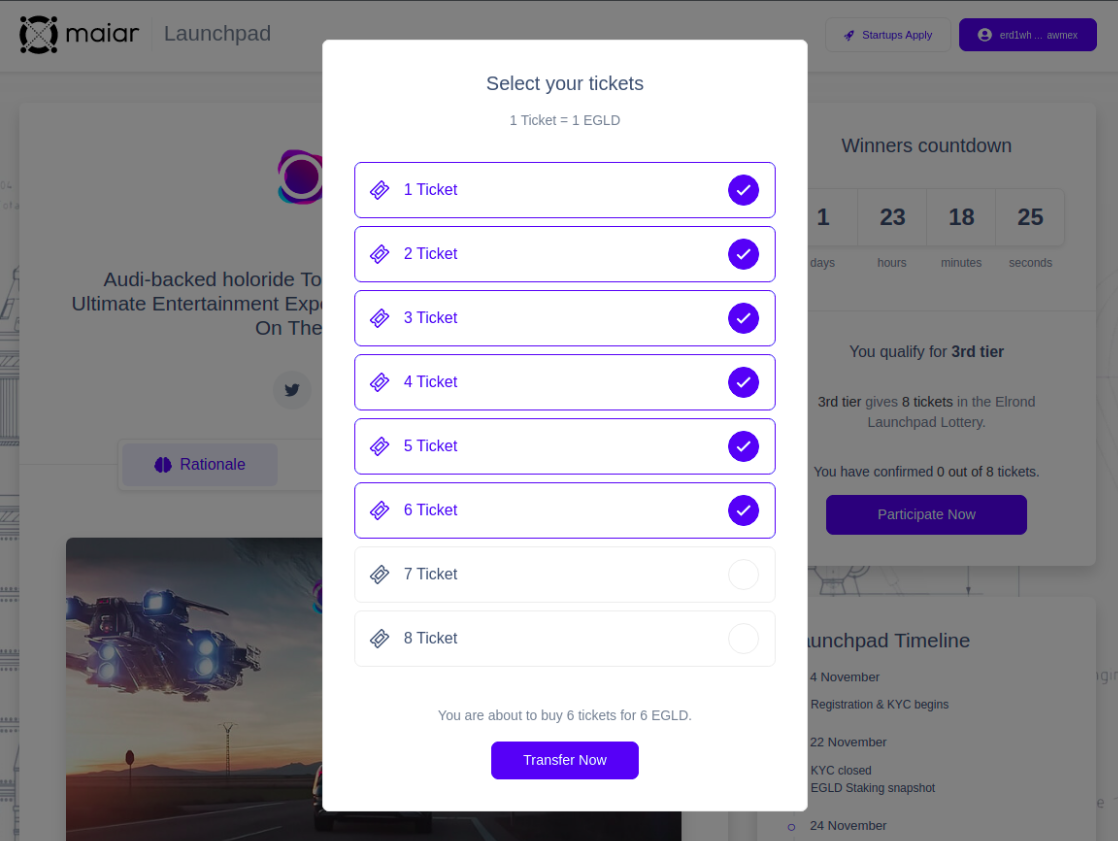 When you buy the tickets, you deposit EGLD into the lottery smart contract, and unique ticket numbers are assigned to you
A lottery system is used to match the limited amount of RIDE tokens available for sale with the vast demand
A tiered system is in place, based on the amount of EGLD staked. More EGLD staked, more tickets available to buy
The tickets have to be bought with EGLD. The tickets are not deducted from your staked EGLD amount - that is not possible
25 November - Lottery draw and winning tickets

On November 25, the lottery draw happens: the smart contract will randomly select the 10,000 winning tickets. You will be able to see if you won immediately after that.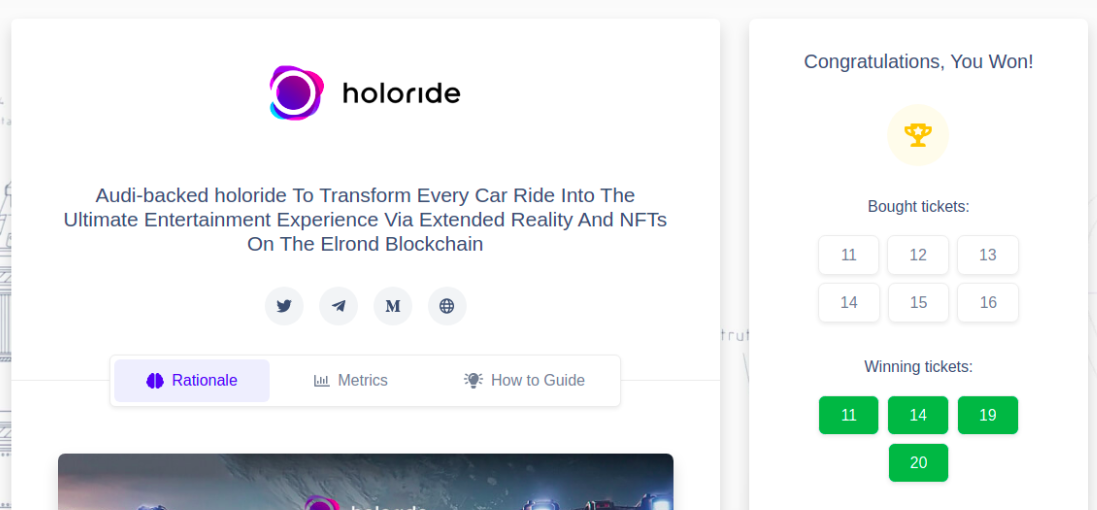 The smart contract uses the Fisher-Yates shuffling method
No further actions are available at this point.
26 November - Claim RIDE tickets and reclaim EGLD
The next day after the lottery you will be able to claim the RIDE tokens for your winning tickets. You will also be able to claim unspent EGLD, or otherwise said, EGLD you spend on non-winning tickets.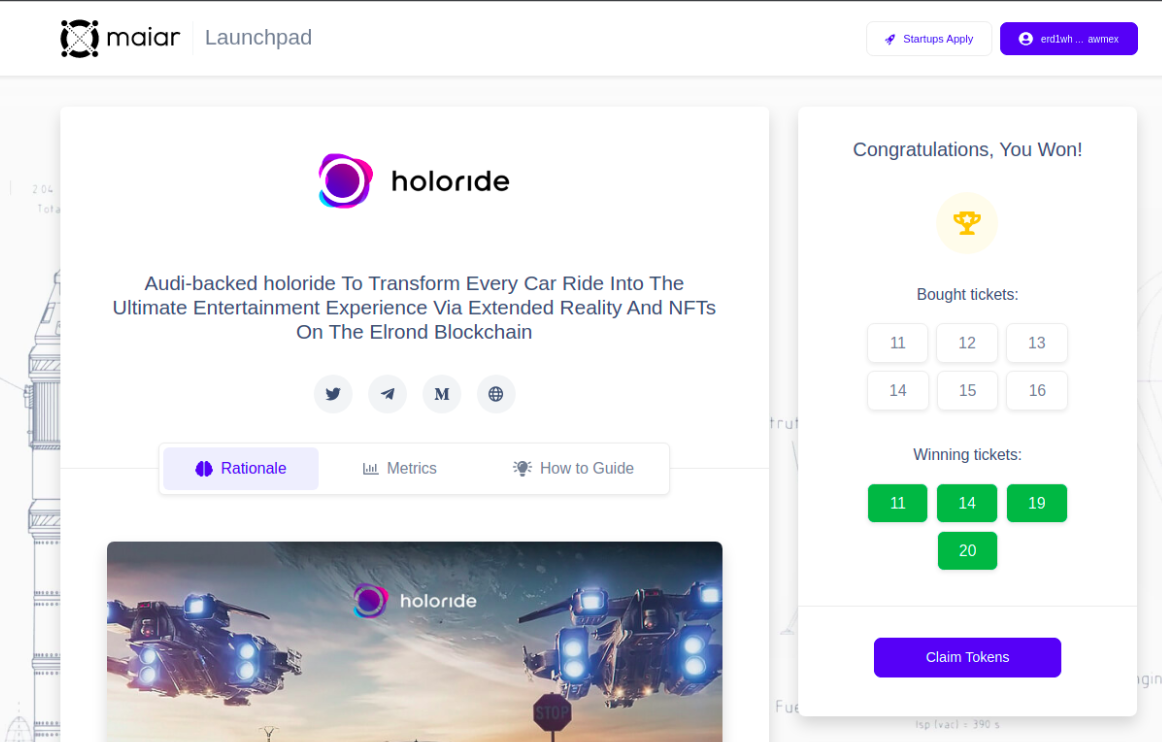 You have to submit a transaction to claim your tokens. Once executed, your RIDE tokens and EGLD will be delivered to your wallet
You can see your new RIDE tokens using the Web Wallet, the Maiar DeFi Wallet, or the Elrond Explorer
RIDE is not available in the Maiar App at this time
We also created a dedicated Maiar Launchpad Telegram group where you can ask any other questions you might have: https://t.me/MaiarLaunchpad
---
For more information, please visit us:
---
---
Latest news on Elrond
Check out our latest blog posts and updates