Sovralimentare l'esposizione: i trader avanzati ottengono l'accesso ai contratti perpetui eGold su FTX, insieme alle azioni tokenizzate TSLA, AAPL, AMZN
Also available in
English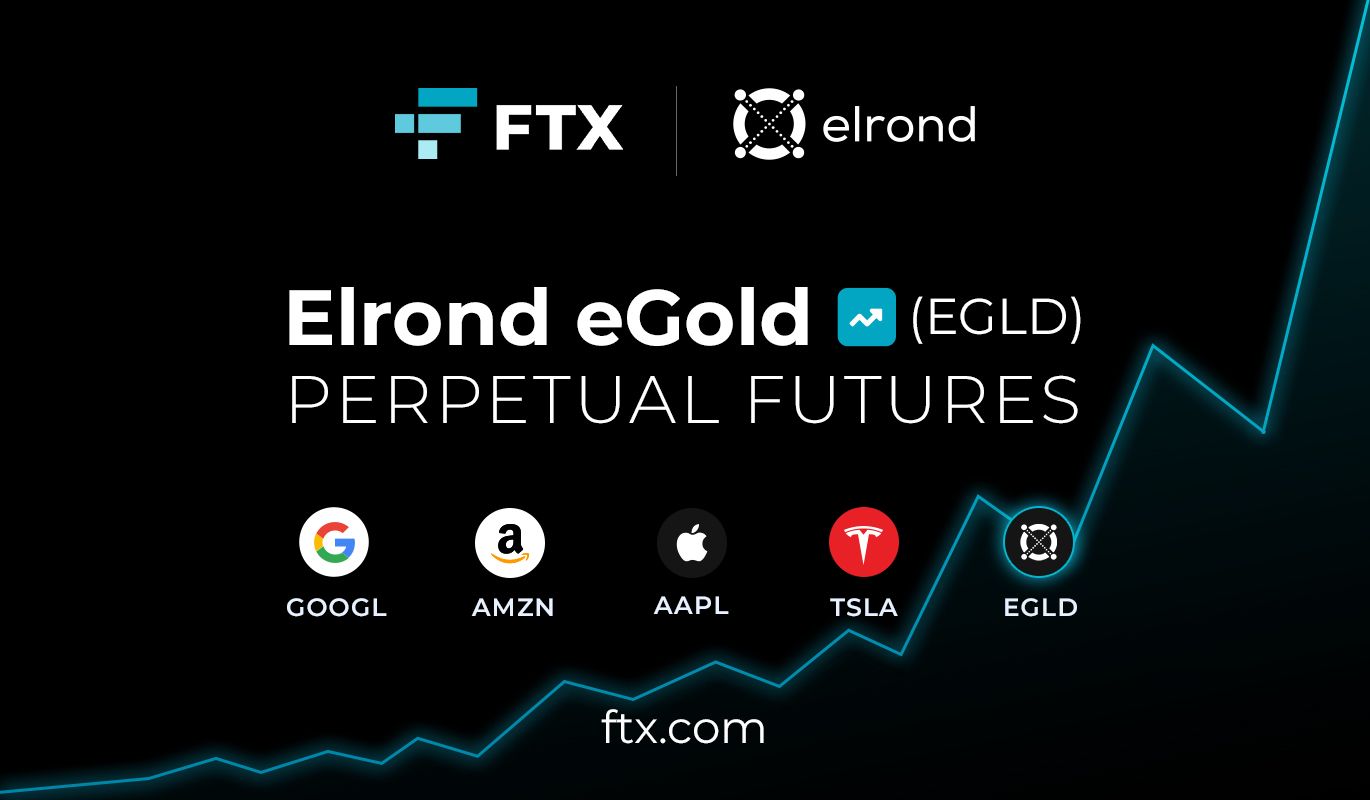 I contratti futures sono utilizzati dai trader avanzati per regolare il prezzo degli asset sottostanti ad un prezzo specifico in una specifica data futura.
I futures perpetui sono un esempio di contratti futures che non hanno una data di scadenza e hanno un prezzo più vicino al valore in tempo reale dell'asset sottostante. Consentono ai trader avanzati di interagire con questi asset in modo più diretto e di seguire da vicino le tendenze del mercato.
È un ottimo modo per rimanere a lungo su un asset senza rinnovare periodicamente i contratti. Offre inoltre maggiore flessibilità e può essere sfruttato in leva.
Siamo quindi entusiasti di annunciare che i contratti perpetui eGold sono stati abilitati sul popolare exchange di derivati ​​FTX, insieme ad azioni tokenizzate come Tesla, Google e Amazon.
"Abbiamo tutto pronto. Sovralimentare l'esposizione per l'ecosistema Elrond è ciò che guiderà la prossima grande ondata di adozione. I vivaci e altamente produttivi ecosistemi Elrond e FTX si connettono in un momento cruciale per lo spazio blockchain, aprendo un ampio spettro di entusiasmanti opportunità di collaborazione". ha affermato Beniamin Mincu, CEO di Elrond.
FTX è una piattaforma di trading di asset digitali che si è rapidamente affermata come uno dei principali exchange di derivati. Ha volumi giornalieri che superano i 5 miliardi di dollari e il suo token FTT sottostante è classificato tra i primi 50 per capitalizzazione di mercato.
L'exchange fa parte di un ecosistema più ampio che ha avuto origine con la società di trading di criptovalute Alameda Research. FTX ha recentemente acquisito Blockfolio, lanciato Serum DEX e il suo CEO Sam Bankman-Fried è una figura ben nota nello spazio blockchain.
La quotazione è importante per l'ecosistema Elrond perché i trader avanzati ottengono un prodotto potente per gestire ulteriormente la loro esposizione a eGold in modo conveniente e redditizio.
EGLD su FTX: https://ftx.com/trade/EGLD-PERP
Informazioni su Elrond
Elrond è una internet-scale blockchain, progettata da zero per portare un miglioramento cumulativo di 1000 volte in termini di throughput e velocità di esecuzione. Per raggiungere questo obiettivo, Elrond introduce due innovazioni chiave: un nuovo meccanismo Adaptive State Sharding e un algoritmo Secure Proof of Stake (PoS), che consente la scalabilità lineare con un meccanismo di consenso veloce, efficiente e sicuro. Pertanto, Elrond può elaborare fino a 15.000 transazioni al secondo (TPS), con una latenza di 6 secondi e un costo trascurabile, tentando di diventare la spina dorsale di un'economia Internet senza autorizzazioni, senza confini e accessibile a livello globale.
Informazioni su FTX
FTX è un exchange di derivati ​​di criptovalute costruito dai trader, per i trader. La piattaforma si sforza di costruire una piattaforma abbastanza potente per le società di trading professionali e abbastanza intuitiva per gli utenti alle prime armi. FTX supporta futures trimestrali e perpetui per tutte le principali criptovalute, token con leva e OTC.
Disclaimer
This is a translation from our Italian community. Can it be improved?
Share your thoughts in the
Italian Telegram group
.
---
For more information, please visit us:
---
---
Latest news on Elrond
Check out our latest blog posts and updates