Top Romanian Investor Joins Staking Agency As Partner, Injects Capital To Strengthen Elrond Network Global Infrastructure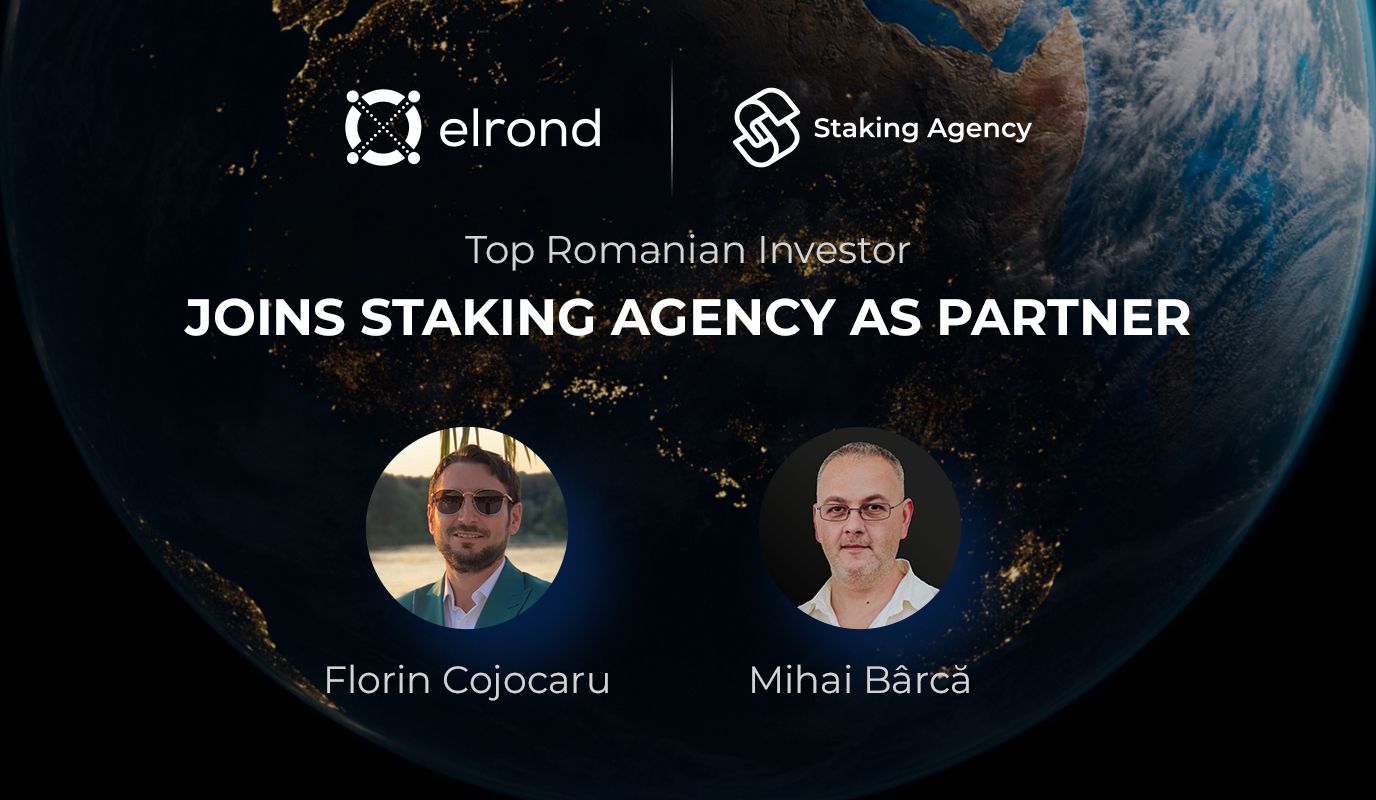 Exciting news from our partner Staking Agency: top Romanian investor Florin Cojocaru joins Staking Agency as Partner. The move is set to strengthen our staking infrastructure provider, which thus becomes the biggest Elrond partner in Romania.
Florin Cojocaru is a serial entrepreneur with experience in multiple areas such as high-tech, e-commerce, real estate and crypto investor. He joined the Elrond community in early 2020 and has since gained significant exposure to eGold.
"I learned from Elrond that hard work, perseverance, and clarity of vision compound into incredible growth over time. My decision to commit myself fully to the Elrond ecosystem comes from my trust in the team, and the community and partnerships they have built around their incredible product. I am grateful to have found such an incredibly smart, hardworking and respected partner in Mihai." said Florin Cojocaru, Staking Agency partner.
Florin is currently one of the major contributors to the Elrond ecosystem, bringing in new investors and rallying the Romanian community around his actions to promote Elrond both in his extensive business network and for newcomers.
Staking Agency already runs more than 60 validators, testnet nodes and proxy servers, which are located in Germany, Romania, France, England, Italy, Finland, the Czech Republic and Poland.
Florin Cojocaru will bring an influx of new capital which will be directed at deploying new infrastructure in North America and South-East Asia, to expand the availability of Elrond infrastructure in high growth regions.
"Florin and I have been working closely together to advocate for Elrond. Out of the many scenarios analyzed, expanding the global Elrond infrastructure has the most utility and long-term upside potential. I am excited to join forces with Florin and make Staking Agency into the biggest regional player" said Mihai Barca, Staking Agency founder & partner.
Mihai Barca, also know as DrDelphi, is the big winner of the two Battle of Nodes incentivized testnet events. Our community will also recognize him as the one who created several Telegram bots to make our crypto lives easier.
By employing white-hat hacking tactics and procedures he revealed more than 30 vulnerabilities in our protocol and helped us fix them. Mihai also created tools & bots to support the staking process, validator monitoring, community management and more.
The changes in the Staking Agency partners structure is set to position it as one of the biggest players in the Romanian market and a strong Elrond partner at global level.
About Staking Agency
Staking Agency runs blockchain-specific infrastructure in highly secured data centers, with a core team of security experts. The firm's versatile capabilities come from a long experience of operating Proof of Work and Proof of Stake systems for themselves and other customers. Staking Agency packages delegation services with value-add services for customers and partner ecosystems alike, such as customized monitoring, global dashboards, a rich knowledge base and direct guidance.
---
For more information, please visit us:
---
Latest news on Elrond
Check out our latest blog posts and updates