Scalable Decentralization for Financial Applications on Elrond Mainnet via Bluzelle Database Layer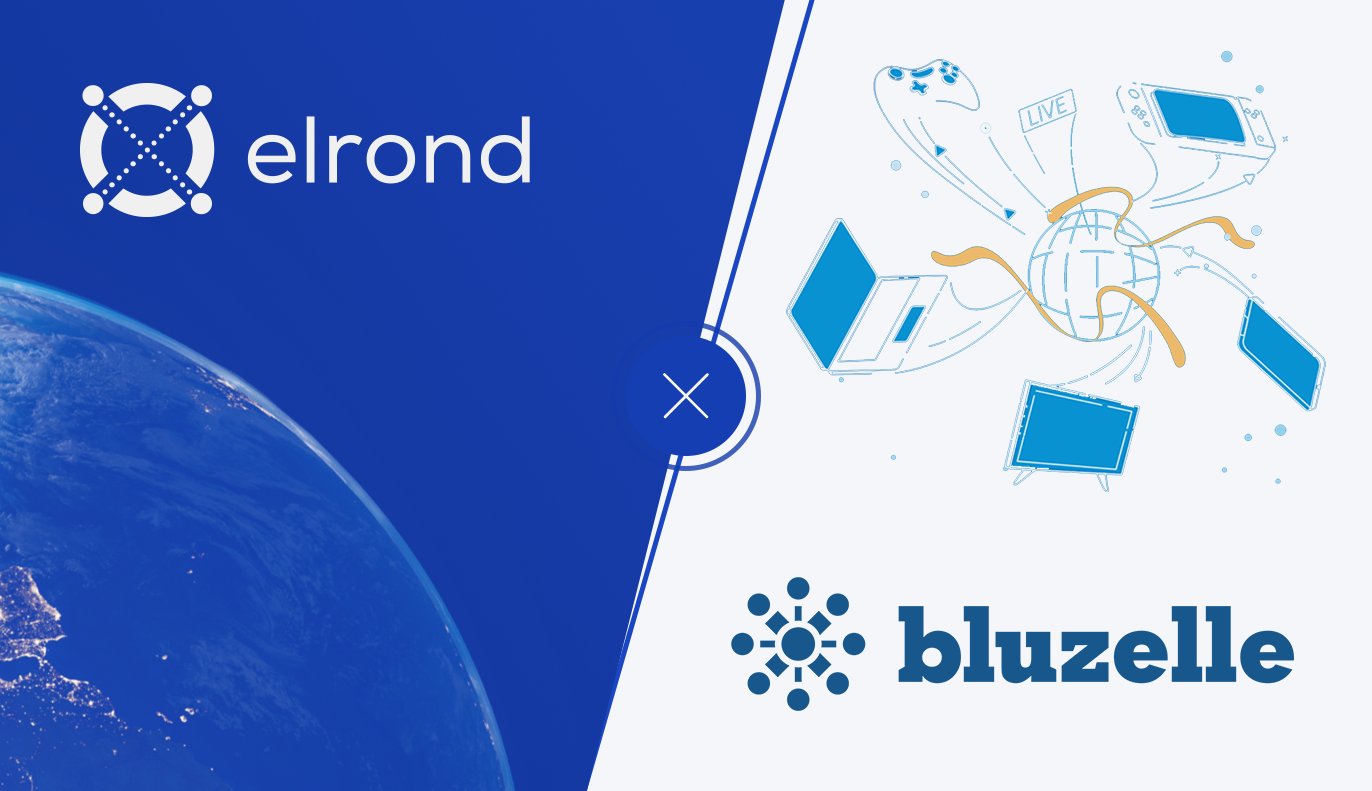 We're excited to announce that we are working with Bluzelle to provide applications built on the Elrond mainnet access to a fully decentralized database layer. Bluzelle is a tamper-proof data network that has greater privacy, scalability, and availability than traditional solutions.
The collaboration will initially focus on integration between the two decentralized layers, enabling Elrond applications to use the Bluzelle network as a database service.
Elrond Smart Accounts have an associated data trie and key-value storage at the account level, which holds important potential for innovative use-cases in collaboration with Bluzelle. Additional research will be conducted by the two partners, seeking to unlock more dynamic use-cases enabled by automated data provisioning in a fully decentralized environment.
"This is a critical milestone for organizations looking to leverage Elrond's high throughput & inexpensive mainnet for financial applications involving blockchain. A decentralized database layer is indispensable for such scenarios. We're excited about this important step we're taking with Bluzelle." said Beniamin Mincu, Elrond CEO.
Bluzelle aims to be the go-to data layer for Web 3.0, offering a decentralized database solution to create applications that are decentralized from one end to the other.  It is a  NoSQL database and is usable in multiple scenarios ranging from high performant data relays to individual database services.
"Integrating with Elrond's high-speed network will create all the prerequisites needed for developers looking to build highly scalable and fully decentralized applications. We're eager to explore the potential new scenarios enabled by their Smart Accounts." said Pavel Bains, Bluzelle CEO.
The integration with Bluzelle offers companies building on the Elrond mainnet access to a convenient database solution that has high levels of performance, privacy & availability, enabling the creation of truly decentralized applications. The ongoing research around Elrond's Smart Account features will provide additional synergies that are set to unlock innovative use-cases for blockchain technology.
About Elrond
Elrond is a new blockchain architecture, designed from scratch to bring a 1000-fold cumulative improvement in throughput and execution speed. To achieve this, Elrond introduces two key innovations: a novel Adaptive State Sharding mechanism, and a Secure Proof of Stake (PoS) algorithm, enabling linear scalability with a fast, efficient, and secure consensus mechanism. Thus, Elrond can process upwards of 10,000 transactions per second (TPS), with 5-second latency, and negligible cost, attempting to become the backbone of a permissionless, borderless, globally accessible internet economy.
About Bluzelle
Powered by a byzantine fault-tolerant cluster of blockchains customized specifically for database operations, Bluzelle is a decentralized database for Web3. Its advanced data delivery network promises to protect businesses from data breaches, network failures and performance troubles. Bluzelle effectively serves as an "Airbnb of databases," with developers paying for storage space and read/write to the decentralized database.
Secure, tamper-proof and highly scalable, Bluzelle completed a public sale in January 2018, raising $19.5m. While data storage is the foundation, the platform is in the process of developing data feeds and oracles for the next phase of its evolution to help bring about a faster and more secure internet.
---
For more information, please visit us:
---
---
Latest news on Elrond
Check out our latest blog posts and updates